Washington, D.C. - Tom Ridge, Director of the Office of Homeland Security, upgraded the National Terror Alert Level from "We Don't Know" to "Pretty High" on suspicions that Iraq may launch a cyber-attack against US computer installations.
"We have solid evidence that Saddam has been stockpiling sophisticated electronic equipment such as 300 baud modems and handheld touch-tone generators," said Ridge. "We don't know when or where he might launch his attack, but we have evidence to suggest that it could be imminent."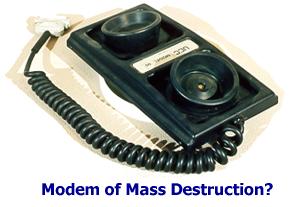 Ridge cited a recent survey which showed that twenty percent of computers were acting "flakey" and that sixty percent had experienced an outright crash in the past seven days. "That's pretty conclusive evidence that the Iraqis have already infiltrated our computer systems," said Ridge.
Intelligence sources indicate that in early spring Saddam organized a L33t Republican Guard that was trained to conduct cyber-attacks on US targets. "These Iraqis are very skilled in advanced hacking practices such as war dialing and phreaking," said a CIA official. "They could render two, maybe three, ISDN lines completely useless. Do you have any idea what that could do to our technological infrastructure?"
Computers most endangered by the attack are older style BBS systems which still communicate via low speed modems. Timothy Kagen sysop of Jabba's Hut, a BBS in surburban New Jersey, has been on high alert for days, "I have two phone lines going from 8 pm to 8am. With the sheer volume of modems these Iraqis have, they could tie up all the BBSes on the entire eastern seaboard, and if my friends can't play Tradewars they get a bit pissy. It would be a disaster."
President Bush also voiced his concerns during an afternoon press conference in the Rose Garden, "Say it with me, Saddam, modem. Eerie how they sound so similar, isn't it?"