Washington, D.C. - This weekend the District of Columbia fell under meteorological attack and the nation's capital has been crippled. "Several inches of snow have fallen on the DC area and more snow is on the way," reported the local NBC television station.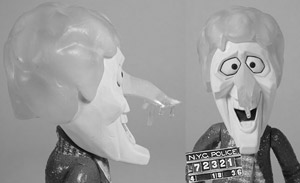 The Snow Miser was arrested, but subsequently released for the 1936 New York Blizzard Attack.
On CNN's Late Edition, Homeland Security Secretary Tom Ridge refused to speculate on possible causes of the siege. Ridge stated: "We can either be afraid, or we can be ready. America chooses to be ready."
The Homeland Security Agency has plans underway to issue over 20,000 snow shovels and "several tons" of ice melt. Ridge added that the national terror alert will be maintained at orange, the second-highest level, for the foreseeable future, and if needed, will be raised to red in hopes that its glow will melt the ice and snow.
Pentagon officials have openly speculated that one man is behind the terror that has immobilized the American capital. "We have seen his work in the past. We don't need UN inspectors to tell us who is behind today's events," proclaimed Secretary of Defense Donald Rumsfeld. "Only one man has the technology to grasp Washington in his icy clutch: Mr. Ten Below himself, the Snow Miser."
The State Department issued a release which stated: "We have incontrovertible evidence that the Snow Miser is an Al-Qaeda operative." The report also stated, "It is no coincidence that this white powder was targeted on the nation's capital."
When reached for comment, Snow Miser replied, "I have no involvement with the situation in Washington. The climate there turned cold back when the Republicans took control."
District residents joined together early Sunday morning to aid those in need after the attack. Several convoys of SUVs were formed to aid in global warming and to escort political pundits to television studios for "Meet the Press", "Face the Nation", "This Week" and "Fox News Sunday" where Tony Snow appealed for viewer's pity during the ongoing snowfall.
Keeping with the tradition of past District mayors, Anthony Williams has cut short his vacation to Puerto Rico in response to the tragedy. The Mayor received word of the situation while touring the Bacardi Rum Distillery. With only one open runway between the region's three international airports, the Mayor's return has been delayed. Williams has set-up an interim emergency command center at the San Juan Marriott Resort and Stellaris Casino's La Isla bar.
Officials called rumors of a mid-summer attack by the Heat Miser "unsubstantiated."