Cupertino, CA - Apple's recent announcement that over 1 million songs had been purchased in the first week of its new music store's existence presents undeniable proof that Apple users will overpay for anything.
The iTunes music store offers AAC encoded songs for a dollar a piece, infinitely more expensive than the free songs windows users enjoy.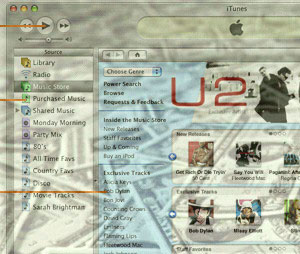 Steve Jobs said, "Over the years our dedicated users have been willing to pay a premium for less flexibility and smaller selection, from the original Macintosh to the current OS X. Now we've applied this concept to the world of entertainment. It's absolutely phenomenal that they fell for it again."
Loyal Apple computer users were unsurprisingly excited by the new offering. "I really appreciate the cost-savings of being able to download songs for a buck," said Pentagon procurement officer and Macintosh user, Wendy Sykes. "Before the iTunes Music Store I had to listen to one of the $37 music CDs that I purchased."
Kelvin Franklin, a loyal Apple user since the Apple IIe, offered, "When Jobs said that these files were pristine, we all knew what he meant. They were untouched by the Windows operating system. I mean I wouldn't want anything that touched a hard drive with Windows on it to be within 20 miles of my precious."
The initial success of the store does allay some concerns that Apple executives had before launch. "I have to admit that we were a bit worried that our customers would not have enough money left after purchasing a Macintosh to be able to afford any songs, but, as it has always been, our users have come through," said Apple Vice-president of Marketing Thom Esterling.
Users of Windows computers, who download their music for free using peer-to-peer file sharing programs such as Kazaa and Morpheus, were bewildered by news that the store would be available for them later this year.
"Sure, Apple users will eat this up. They're used to paying money for things like software and operating systems, but Microsoft users will never buy into something like this," said Yani Stevens of the Windows Alliance.
(Eds. Note: Apple users, the cost of reading this article is $1. Please send your payment to BBspot.com)