San Francisco, CA - Help desk technicians around the country are eagerly anticipating the release of a new user management software. The software is designed to help technicians better control issues caused by their customers.

Several IT companies have been testing the new interface for around 6 months and the change in IT metrics are astounding.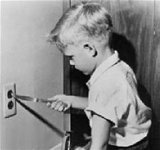 The software is easily distributed using group policies and pre-built MSI packages supplied by the vendor. The software, created by Shocktivity Inc. will require new keyboards for the help desk technician's computers and a small add-on for each users computer. The add-on simply plugs into the LPT port on the back of the end users computer.
"We have really seen a decrease in useless trouble calls to our help desk in the past few months" says lead phone technician Brian Hopple. "It's really wonderful that I can now focus on leveling up in my favorite MMPORG, Astonia"
The way the software works is quite remarkable. It utilizes the theory of electo-shock therapy. Once trained with the new interface, the help desk technician can send a painful, but safe shock to the end user's ankles. "Its so nice to be able to train my users in this way" says Stacy Bertle. "I used to have so many of the same people calling me about really stupid issues like 'where can I get Bonzi Buddy?' or 'How can I get my mouse cursor to look like a Christmas tree?' that I couldn't focus on real issues. Now all I have to do is open up my management interface, highlight the user object and press the 'shock' button on my new keyboard".
The system can integrate into the Windows 2000 active directory also. "We have an Organizational Unit (OU) called 'idiots' that we the push the software to," said server manager Brandy Hopskittler. "Once a customer has called the helpdesk about stupid issues a certain number of times, we can just simply move them to the idiots OU, and they will get the software. I really feel as if I'm helping out my front line team."
The software can also be configured to activate automatically whenever the windows installer runs. This feature is available to keep problem users from installing software without the knowledge of their IT department.
Shocktivity Inc. plans on releasing the software in a few months.