Poway, CA - Embattled PC maker Gateway will soon phase out its existing family of products to make way for a so-called "Retr0" line of computers and peripherals, the company announced today.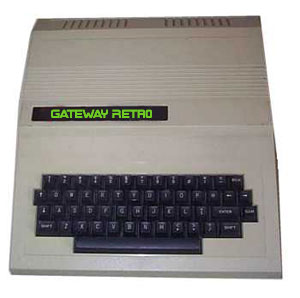 The new line will be the centerpiece of an aggressive marketing campaign with the themes, "Yesterday's Technology Today" and "Good Old-Fashioned Computers." Print and TV ads will eschew the familiar cows in favor of "Sol," a software engineer who left the industry in the late 80s to live in a remote mountain cabin and develop "the ultimate app." In the ads, Sol rejoins modern society with the program saved on a stack of 5 ¼" floppies, only to discover that his program missed the boat by nearly twenty years. Enter Gateway, with its Retr0 line, to save not only Sol's day, but others of his ilk. The fame and recognition he dreamt of is ultimately realized, as he becomes the world's leading authority on Gateway Retr0.
"Our research showed us that there was a small but fast-growing customer base who wasn't interested in marketing fluff like performance, reliability and innovation," said CEO Ted Waitt. "We saw an opportunity to take advantage of this market by offering products that, while new in a sense, represent a huge step backward into the heyday of PCs. We want our customers to feel the same excitement buying a product in the Retr0 line as they did when buying their first-ever PC."
The flagship entry in the Retr0 sub-brand will be the "Ol' 82," a PC with a Motorola 6510 processor at 1 MHz, 64 KB of RAM, a removable 160K floppy disk drive, and dazzling 16-color graphics. Retail pricing has been "rolled back to 1982," and will start at $1,299. It will effectively end at $1,299, as well, since there are no upgrade options, but available accessories include the Gateway- branded "Whine Country" 970XJS dot-matrix printer ($299), the "Lead Zep" 40-column color monitor ($399) and the "S' Wayback" game bundle featuring the popular titles Seven Cities of Gold, Beamrider and Dr. J and Larry Bird Go One-on-One.
Shocked by the announcement, industry pundits warn of serious supply issues with the Retr0 line. Processors such as the 6510, for example, would force the re-opening of fabs that have been unoccupied since the Reagan administration. "I can't begin to imagine what they're thinking," said TBR analyst Brooks Gray. "With those specs, I'm not sure it could handle a grocery list, let alone anything with a modern GUI like users are accustomed to."
Others, however, were heartened by the announcement. Bruce Symmons, a 43-year-old banker, has often been frustrated by the complexity of modern PCs and operating systems. "You can keep your Excel-this and your Word-that," he says. "Give me VisiCalc and WordStar any day. It was friggin' magic what I could do with those."
Despite Gateway's dwindling market share and still-fresh changes to its existing product line and strategy, Waitt defends the Retr0 strategy with characteristic vigor. "Back in the day, technology moved at lightning speed. As soon as you bought something, man, it was obsolete. All that's changed now, but it's boring," he says. "Our new strategy is simple: change strategies as fast as technology used to change when the strategy was to change as fast as technology changed, and support that by offering products that have endured those changes but without changing the technology for technology's sake."