Cupertino, CA - The ongoing cut-throat rivalry between Apple and Microsoft has been raised another notch this week.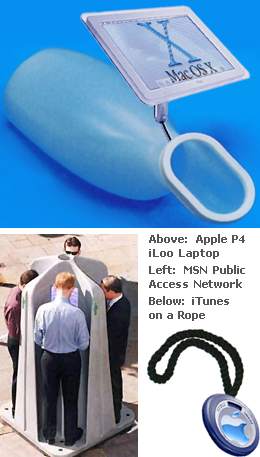 Stealing thunder from Microsoft chairman Bill Gates, whose new MSN Radio Plus seeks to mimic the success of Apple's on-line "music store" iTunes, Apple chief executive Steve Jobs has introduced the Macintosh P4 laptop to compete with Microsoft's iLoo portable workstation.
Targeting the company's younger artsy market, the P4 maintains Macintosh's tradition of elegant simplicity, ease-of-use and cutting-edge product design.
The P4 offers larger storage capacity - the 64-oz. model will cost $2,995 - and comes in Indigo, Ruby, Sage and Snow (colors are subject to availability).
As always, Apple's strategy will be to appeal to people who "think outside the can."
Gates was in South Dakota last month, promoting his MSN Public Access Network (PAN). "It's important to make sure internet bathroom facilities become universally available," said Gates, who added that he spends "several hours a day" on the toilet.
The PAN was one of 14 that the Bill and Melinda Gates Foundation is donating to the Watertown Public Library.
Apple isn't taking Microsoft's challenge to iTunes lightly. Jobs is currently in negotiations with Procter and Gamble to develop a waterproof wireless MP3 system for another huge crossover market: people who sing in the shower.
"It will be a marriage of karaoke and soap-on-a-rope," explained Hilary Rosen, chief executive officer of the Recording Industry Association of America.
This story originally appeared at The Specious Report