New Zealand - "Kiki" the spider, already known for her role as Aragog in Harry Potter and the Chamber of Secrets is currently in New Zealand filming additional scenes as the giant spider, Shelob, in Lord of the Rings: The Return of the King.
"Director Peter Jackson felt a scene was needed to show more depth, more motivation behind my character," Kiki said at a press conference in New Zealand on Tuesday. "Sure, I'm evil, but aren't all giant spiders? Jackson wanted to set Shelob apart from the other evil, giant spiders."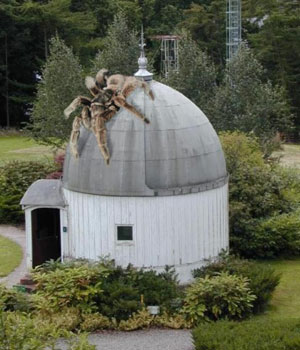 Kiki wouldn't reveal much about the new scenes, except that Frodo, Sam, and Gollum were involved in the shoot, and that, "this time, Elijah Wood had better keep that damn bright light he got from Galadriel outta my eyes."
Kiki expressed her hopes that after appearing in the recent Harry Potter movie and upcoming Lord of the Rings movie, her career would finally take off.
"There's not a lot of film roles written for grotesquely oversized spiders these days," she lamented. "But I think that's only because nobody thinks of writing us into the screenplay. Why not James Bond and the Really Big Spider? Or maybe I could work with Dr. Evil in the next Austin Powers movie? I'd love to try comedy."
Originally cast as a stand-in for Tobey Maguire in the 2002 Spider-man movie, Kiki was later rejected when filmmakers decided to use a stand-in with a more human appearance. "What a crock that was," she muttered, attempting to cover the microphone with two of her legs.
Kiki has enjoyed the greater recognition she's received on the streets, particularly from children who saw her as Aragog in the Harry Potter sequel. "They're always surprised that I'm a female, because Aragog wasn't, of course, but they love to hear about the male voiceover. The crew synched it so well with my mouth, you couldn't even tell."
Kiki has no solid future career plans, but is said to be in talks with the producers of London's 2005 Lord of the Rings Musical. "If," she says, "I can learn to sing. Plus, the choreography is a lot trickier when you have eight legs."
Although she recognizes that the Academy Awards overlooked Gollum for a Supporting Actor Oscar, Kiki is optimistic that her role just may change their mind. "Movies are changing," she concluded. "Hollywood's going to have to begin accepting us non-humans."
"Kiki" image courtesy of ironkite via Worth 1000