Berkeley, CA - Beloved mascots and icons of the open source movement, specifically Tux, the Linux Penguin, and Beastie, the BSD Devil, are coming under attack from parenting groups. Accusations of tobacco company-like advertising are flying at the open source community.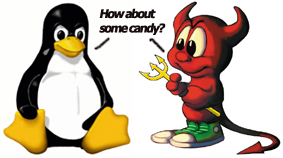 "Like Joe Camel, Tux the Penguin and Beastie are targeted specifically at children. The open source community has gotten away with this kind of 'hook 'em while they're young' advertising for years, and it's time that they have their day in court," says John Burkstrom, the attorney representing the class-action lawsuit that individual parents and parenting groups such as Mothers Intervening in the Compiling or Redistribution of Open-Source SOFTware (MICROSOFT) and Parents Opposed to Open Protocols and Standards (POOPS).
Catherine Himmler, founder and spokeswoman for MICROSOFT, began the crusade against Tux and Beastie after finding her 13 year-old son Bobby in his room compiling and applying a patch to his kernel. "He'd been spending a lot of time in his room with the door locked, and I was curious about what he was doing in there." Mrs. Himmler said that she initially feared involvement with pornography or drugs. "When I opened the door, I saw his computer monitor was completely black with white text. At first I thought that he had just maximized a harmless DOS prompt, but then ... then, I saw the forward slashes and knew that my worst fears had come true. My son was using Linux."
Mrs. Himmler forced Bobby to exit the terminal and then, to her shock, saw his desktop background.
"I saw a cute, harmless-looking cartoon penguin. Bobby told me that he was the Linux `mascot.' My three year-old saw it once and is already asking for a Tux doll! It was only then that I realized what these `open-source' people were up to. They're just like the tobacco companies: trying to subvert our youth through advertising."
Further inspection of her son's machine revealed that he'd installed FreeBSD 5.0 (Berkeley Software Distribution) on another partition. She saw Beastie on the desktop and ``had seen enough." Bobby claims that he had only burned the ISO's for a friend who didn't have broadband in his area. Mrs. Himmler was unconvinced.
She immediately called the other mothers in the neighborhood, and within a week had organized a bonfire to dispose of any burned open source software distributions parents had found in their children's rooms.
MICROSOFT have released a list of signs that children are using dangerous software like OSS and BSD. Parents are advised to look for, among Tux and Beastie desktop backgrounds, tildes, forward slashes and larger electrical bills resulting from extremely long uptimes. Cases in which children are seen licking their monitors are cited as "dead giveaways" of the child using Apple's Mac OS X, which has a FreeBSD subsystem.
The open source community denies any connection to or inspiration from tobacco company advertising, though admits that cigarettes have played a vital part in many late night coding binges.