Akron, OH - Much like life, Rich Stiles of Ft. Wayne MI learned that "Normal" is too difficult for him on his favorite game Satana 2.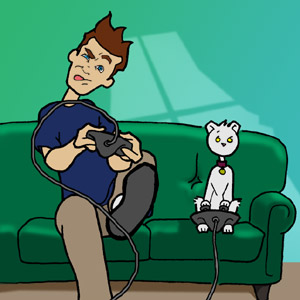 "It was so much harder that I kept dying on the 'Choose your character' screen. I'd type in my name, Rich, and my character would die. The only way I could get past that screen was to play a female character with a metal bra," explained Stiles.
As in real life, Rich learned that breasts could get you out of tough situations.
"I think the same people who designed this game also designed girls," continued Stiles. "I mean the easy ones are too easy, while the normal ones are near impossible to conquer."
Other gamers agree with Stiles. Sarah White from Columbus, Ohio said, "The Orcs go from sword fodder to Uruk-hai on steroids. I don't know how they expect anyone to finish it on that level. I mean I spent a whole 25 minutes on it then I just downloaded some cheat codes and advanced to the end game. I don't even know why they have a "difficult" setting. No one could ever play at that level."
Programmers admit that the Normal level can only be mastered if a person plays the game 24/7 until the next version comes out, or if the player has some freakish video game skills like those guys in the Dance Dance Revolution videos.
"Most people don't have that kind of time, so we don't even put in a "difficult" level, just the menu selection. If someone does choose it by accident we just go to a default blue screen," laughed head programmer of MiniSky Games Trish Erskin.
Rich's mother, Clara Stiles, agreed, "Rich really has some problems with normal."