Wausau, WI - Project managers and coders at Breeze Coding were caught off guard by never-changing specification from The Gamma Group, causing the software project to be delayed indefinitely.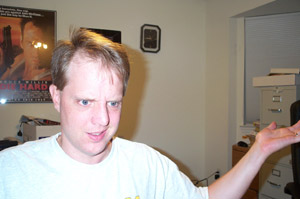 "WTF, they liked that last mock-up?"
"It was an nightmare. Usually, I can play Diablo II up until about a week before projected launch," said lead programmer Sanjay Rao, "because that's when management calls me into a meeting to tell me the client revised the specs, and I get another two weeks to work on it. But, this time the client stuck with the original spec. I'm screwed."
Levi Cohen, who also worked on the project agreed, "I try not to shave for the 3 or 4 days leading up to the 'revision meeting' so the client thinks I've been up late nights. I mean, I have, but just playing games. Then they drop this bomb on me that they don't want to change anything."
Clinton Howard who managed the project said he was frustrated by his client's lack of changes. "I was expecting an e-mail from the client at any time telling me to halt everything, because they didn't like the interface, but it just never came. I even called them a couple of times with suggestions, but they always were pleased with my fake progress reports and mock-ups."
Tom Hyatt from The Gamma Group said he "didn't mind" Breeze missing the deadline and that they could take all the time they wanted. "I understand that programming is a difficult and time-consuming job. We'll be patient."
Rao wanted whatever Hyatt was smoking.