Los Angeles, CA - The RIAA announced that they would begin a strategy of profits by lawsuit, which should keep them a viable business indefinitely.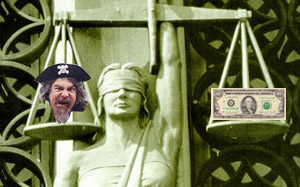 "It's really a bold new idea that really gets back to the roots of the RIAA," said new RIAA Chairman and CEO Mitch Bainwol. "We'll no longer be worried about distributing music. The file sharers will do that for us, but now we'll just make our money from suing them and that's really what we're all about."
According to a report by The Inquirer it will take the RIAA over 2,000 years to sue every file sharer, which confirms the long-term viability of the business model.
"We agree that digital music distribution is the direction everything is heading, but it's not profitable to do that at $1 per song. We'd much rather receive $150,000 per song from suing file sharers. That's where the real profit is found."
The RIAA's new strategy even includes removing all copy protection schemes from new music CDs, and providing file sharing software and pre-ripped songs with new releases. Limited production runs of popular tunes will also increase the need for illegal file sharing and boost the number of possible defendants.
The RIAA could run into trouble with the plan as it is rumored that the SCO Group has already patented the business model of suing customers to stay afloat.
The new plan has been endorsed by the American Bar Association.