Redmond, WA - Microsoft announced a revolutionary new feature will appear in Word 2004 called AutoUnsummarize. The technology works by taking short, concise sections of text and expanding them to any specified length.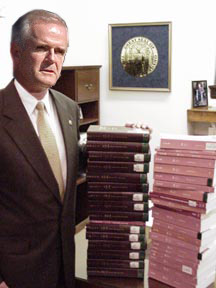 "The technology is simple," said Microsoft Office Research Division Head, Richard Greenwood, "students have been doing it for years. Thanks to the power of Microsoft Word 2004, anybody can turn a five-hundred-word report into a ten-thousand-word masterpiece."

Microsoft programmers discovered the technology after coding the AutoSummarize code in reverse as an April Fool's Day prank. From there it gained unexpected popularity within the department.

College student Chris McLaughlin reacted favorably to the news. "This is the best," he said, "I always hated screwing with the margins and font sizes just to get my reports to the required length. Now all I have to do is write a hundred words and hit the unsummarize button. Wham! Instant marks. I love it."

"What an idea," remarked business leader Karl Armitage, "with this there's nothing I can't do in a few seconds. Reports, interim reports, subinterim reports... just about anything. I thought I had it easy before, but now I can finally live up to my websurfing potential."
Not all reactions were positive, however. Jones Elementary schoolteacher Cathy Morrison said, "This is bad news. How can I be sure my students are not just using AutoUnsummarize for their book reports and essays? Will I have to use AutoSummarize on their work and check whether it produces a coherent result? This is ridiculous."

When asked for comment on the ethical issues present, Greenwood promised to have a five-thousand word report ready by Monday.