Salt Lake City, UT - Supreme Court Judge Isaiah Moore ruled that SCO must show proof of Santa Claus in the next 30 days, or he will dismiss their lawsuit against all Christians and companies profiting from the Christmas holiday.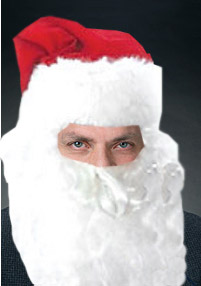 A new look for SCO CEO Kris Kringle (formerly named Darl McBride)
SCO, formerly known as Santa Cruz Operations, recently changed their name to Santa Claus Operations. This change was widely regarded as a move to improve their image after their controversial claims about Linux. Critics of the name change say it's just another fantasy created by SCO CEO Kris Kringle, formerly known as Darl McBride, to profit through litigation.
In a recent press release SCO said it would begin sending out invoices to anyone who celebrates or profits from Christmas in the next couple of weeks including corporations and individuals. A price list for SCO Christmas licenses which companies and individuals need to celebrate the holiday without violating SCO's intellectual property rights were released as well.
"Children can avoid penalties by sending 10% of their Christmas gifts to SCO," said Kringle.
Followers of the case consider the judge's decision a defeat for SCO, because they feel the company cannot prove the existence of Santa Claus.
Kringle was confident that SCO would prevail in the lawsuit. He said, "We have hundreds of e-mails addressed to Kris_Kringle@sco.com. Under Federal law it is illegal to route e-mail to the wrong location intentionally. This proves without a doubt that Santa Claus exists and he works at SCO."
Chief Counsel for the company Fred Gailey said he planned to print out these e-mails and place them in giant mailbags to dump on the judge's desk. "When the judge sees the number of e-mails we've received he will have to rule in our favor, or face breaking the hearts of his grandchildren."
"Christmas existed long before the existence of SCO," said VP of marketing for Giantco, Clayton Moneybags. "In fact I heard that at one point it was about celebrating the birth of Jesus."
SCO Vice president, Jesus Christ countered, "Don't you think we thought of that one too?"