Reviewinator

Trailer
Quicktime
Starring
Director
Stephen Sommers
Official Site
Link
US Opening

May 7, 2004

Rated
PG-13
Genre
Action, Horror
Trailer Clichés
Quick-cut title splash, "From the director of..."
Explosions
5
Weapons
Spinning razors o' death, pistol, crossbow, fangs, sword, silver cross
Voiceover
Yes
"In a world where..."

"It is a place where nightmares come to life..."

Spoilage Factor
25%
Geek Factor
25% (Monsters, cool weapons, CGI)
See Trailer?
Yes
See Movie?
Yes
After the grimness of The Punisher trailer, it is good to see an action trailer with some fun injected.
Hugh Jackman plays Van Helsing, a vanquisher of evil with no memories of his past. He does dirty work for a secret organization that "doesn't exist." His next mission has him heading to Eastern Europe to destroy some fabled movie monsters that are lorded over by Count Dracula. Of course, Mr. Dracula knows Van Helsing's history and taunts him with that knowledge. This creates a dilemma for our hero, he cannot just kill the Count until he finds out where he came from. Of course, he does not even know how to kill him yet.
The main purpose of a movie trailer is to motivate the user to go see the movie. Van Helsing does a great job fulfilling that purpose. I was intrigued by the characters, loved the special effects and enjoyed the fun action in the trailer. I had not planned to see the film before, but now I have May 7 circled on my calendar.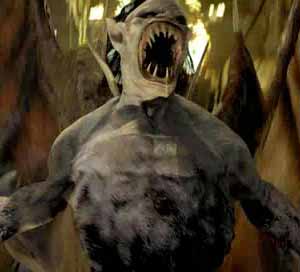 You wouldn't like me when I'm angry.
Hugh Jackman was a good choice for the role. Van Helsing seems like a similar character to Wolverine, and director Stephen Sommers has already done a good job with the other classic monster in The Mummy. This makes a promising combination.
The trailer gets extra points for having cool weapons. Van Helsing's crossbow looks killer. It is a difficult task to make advanced historical weapons look believable. Van Helsing does a good job.
One scene had one slime ball telling Van Helsing, "I see the wolfman hasn't killed you yet." Cut to the nicely rendered wolfman. Cut to Van Helsing who deadpans, "Don't worry. He's getting to it." Funny stuff. Van Helsing also gets to face down Frankenstein's monster. No word on whether Abbot and Costello make a cameo appearance or not.
These monsters are not the classic Hollywood versions. Frankenstein's monster is not just painted green with bolts out his neck, and Dracula is not just a guy with fangs. The count does some scary transformations throughout the trailer.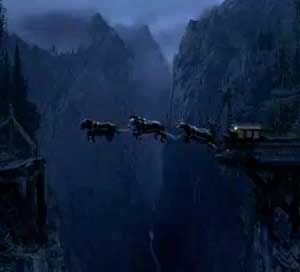 No, it's not a scene from
Santa Clause 3, it's from Van Helsing
The shot of Van Helsing from below with the moon in the background reminded me of a similar shot of Gollum from The Lord of the Rings. I have to guess that is intentional.
Conclusion on Trailer: Excellent trailer that motivates the viewer to see the movie. Great special effects, action and dialog make this one worth the download.
Conclusion on Movie: It is doubtful this one will be a mind bender, but it should be fun to watch. Effects, story, stars and director should make this a Memorial Day weekend favorite.
Recommend This Story to a Friend