Redmond, WA - Most people complain about getting too much e-mail, but they have nothing on Wendy Cudahy of Microsoft, who receives around 2.4 million e-mail messages each day.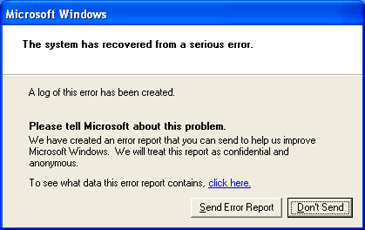 "You know when Windows XP has a problem and it asks if you want to send an error report? Well, if you click the 'send report' button that message comes to me," said Wendy who has been the Error Report Wrangler at the software giant for the past two weeks.
"After six days, I had about 14 million unread messages in my inbox and I knew I probably couldn't catch up, so I set up some filters. That was only a finger in the dam. Now, I am deleting all the messages until I've sorted through these old ones," said Cudahy.
Error Report Wrangler is considered the highest-pressure job at Microsoft and generates high turnover. Three people held the position in May.
Devin Simpson Vice president of Error Report Wrangling said, "The first Wrangler in May kept printing out every message he got. He ended trapped in his cubicle, and died of unnatural causes before we could dig him out. The second person turned on her 'Out of Office' reply message; that was embarrassing."
Many wonder why a company like Microsoft has a person sorting through these e-mails by hand, when it could be done much easier by computer. "Well, that's some complex programming involved there, and not worth the effort. If we spent time fixing errors, we'd never be able to get to the next version," answered Simpson.
Microsoft used to have a large team dedicated to sorting error reports, but tired of the pretense of caring about problems.
Special thanks to Sytse Sijbrandij.
More Tech News
Recommend this Story to a Friend