Santa Monica, CA - Id software recently announced requirements for the greatly anticipated Doom 3, and outraged mobile phone gamers with their lack of support for the popular gaming platform.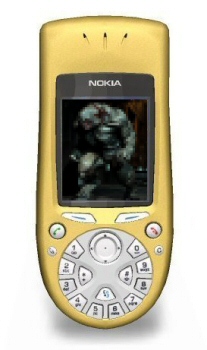 The Mobile Phone Gaming Alliance (MPGA), which hounds gaming firms into producing games for mobile phones, reported that 65% of mobile phone users were "outraged". Also, 55% were currently "outraging" people with mp3 ring tones during a movie.
MPGA's President, Rood Bluster, said, "I can't believe yet another software company is ignoring the growing mobile phone gaming market. We are gamers too, and we're tired of Tetris and Bejeweled."
Id reported receiving hundreds of angry SMS messages about the issue. "Most were similar to 'UR LMRZ'," said Id director of marketing Doris Sampo. "The complex graphics in Doom 3 require tons of processing power and cell phones just are not at that level yet. Heck, only 4 of the top 10 supercomputers in the world are at that level."
Elliot Arger, an avid mobile phone gamer said, "My two-inch screen is perfect for the game. Sure, I might not be able to tell if I'm wielding a rail gun or a rocket launcher, but that's not the point. I just want to blow stuff up while I'm in line at the supermarket."
One mobile user said they would create a phone that would meet the requirements to play the game, by adapting their home PCs into a mobile phone form factor. He said, "My phone may weigh 45 pounds, but I can play the games that no one else can."
More Tech News
Recommend this Story to a Friend