Washington D.C. – Secretary of the Treasury John Snow announced that at the urging of the White House, the Treasury would begin accepting sponsorship on the new twenty-dollar bill.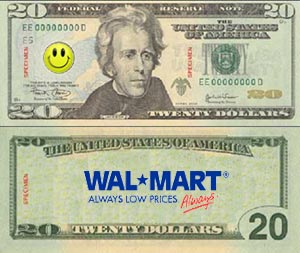 "The added colors and details from the corporate logos will make it much more difficult to produce forged bills. Also, forgers will now face much tougher trademark and copyright protection laws, instead of just Federal counterfeiting statutes," said Snow.
Snow said the extra revenue produced from the ads would be used to keep America growing by lowering the corporate tax rate.
"This is a great opportunity for advertisers," said Marketing World editor Bill Green. "Where better to advertise than on money itself, they have instantly qualified buyers with money in their hands. It also separates demographics well; you have higher end retailers advertising on $100s and Wal Mart and other low-end retailers advertising on $10s and $20s. "
Everything's a Dollar CEO Thomas Buck said he could not wait until sponsorship opens on the one-dollar bill.
One concerned citizen felt that opening the currency to advertising went too far." Commercializing the currency marks a low point for United States. What's next the US flag brought to you by GM?" said Ada Nolan of Edina, Minnesota.
President Bush welcomed the advertisements, "What could be more American than Wal Mart and Coca-Cola? As Americans, we must embrace these new revenue opportunities. If Sears is willing to spend $34 million to put their logo on the White House, that could put weapons in the hands of our soldiers to fight the terrorists."
The new bills will begin circulating in the fall of this year.
More Tech News
Recommend this Story to a Friend