Urbana-Champaign, IL - Scientists at the Beckman Institute for Advanced Science and Technology predict that computer intelligence will surpass human intelligence by year's end.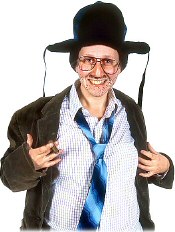 Researchers say the event, referred to as the Singularity in cognitive science circles, is being propelled by two dominant reasons: computers are becoming increasingly smarter, and humans are becoming increasingly dumber.
"Moore's Law has been remarkably accurate in predicting the steady advances in hardware processing power over the decades," says Paul Radcliff, a senior scientist at the Institute. "Algorithmic advances in artificial intelligence have been easy to predict, too -- they're essentially nonexistent. Therefore, the primary reason that is accelerating the arrival of the Singularity ahead of our initial forecasts is the precipitous decline in the average human intelligence quotient."
"Just look at the state of today's youth, for example. We've got teenagers, mall rats, and Gen Y-ers that can't even pass the Turing Test. It's a wonder the Singularity hasn't dawned yet, for crying out loud."
"Unfortunately, this dumbing-down is not limited to the general populace -- even people who we hold in high intellectual esteem are getting dumber," said Radcliff. "Take Stephen Hawking's recently recognized screw up about the Black Hole Information Paradox, for example. What a lunkhead."
Once the Singularity debuts, Radcliff predicts that computers with superhuman intelligence will be capable of extraordinary feats such as programming VCRs, balancing multiple credit accounts, and mastering the butterfly ballot.
Although the evidence is mainly anecdotal, some cognitive scientists argue that superhuman intelligence has already been engineered. Cyber-Savant, an artificial intelligence crafted by students at a regional computer camp, reportedly had an estimated I.Q. of 175. Unfortunately, Cyber-Savant only managed to communicate in Zen koans and Socratic riddles before a hemlock-based solvent was 'accidentally' spilled on its motherboard.
More Tech News
Recommend this Story to a Friend