Johannesburg, South Africa – Richard Theart, an actuary from South Africa, was surprised to find his newly overclocked PC continuously sliding from it usual position on his desk. After a thorough examination of the chassis, he discovered the problem to be his recently installed array of GlobalWin 200 dm3/min cooling fans.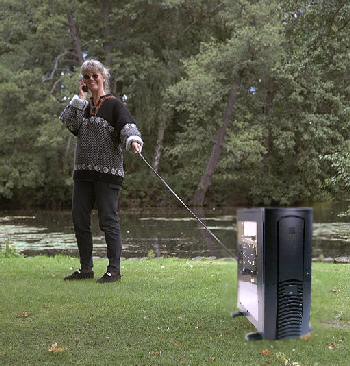 "By removing the side panels from the chassis, I discovered that the lower weight enabled it to glide easily across my desk," said Theart. "By adding more fans beneath the case, and two on either side to stabilize, the case was more than able to hold itself in position approx. ¼ inch above the ground. I got better stability by gluing balsa wood spoilers to the back and wind vanes to the sides of the casing."
Theart has announced plans to release a new line of revolutionary case which, according to his website, will be able to "follow the user around" when combined with the attached "guidance belt."
The final case will include a solar power system, since current trial units use a 50 ft-extension cord which "has a habit of getting tangled, and test users have tripped and spilled their coffee."
Several trial users have relayed their comments, and in among the odd "this is stupid," some have more than welcomed the innovation. Daniel Van Der Westhuizen, a software developer from Softlinetm has this to say: "I find it comforting to have my PC by my side when I take smoke breaks. It takes a load off my shoulder knowing my data is secure, and the decrease in stress saves me a fortune in therapy."
Two models will be available in the form of a general user model and power/lan user model. The general model resembles your average beige micro-ATX form factor, while the power user model is capable of speeds over 10 mph over flat land without tilting or wobbling.
In development are a 10-inch cap mounted LCD with headphones, as well as a utility belt sporting a fold out keyboard with roller-ball mouse.
photograph courtesy Philip Greenspun
Recommend this Story to a Friend