New London, CT - A new 527 called "Swift Boats for Truth" will be airing a new pro-Kerry commercial in select markets this weekend, say sources in the Democratic party.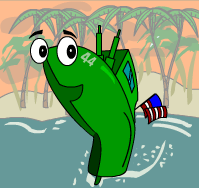 The ad will prominently feature Swiffie the Li'l Riverboat, who served under Kerry, and is in a unique position to discredit the recent SwiftVet ads claiming discrepancies in the official record of Kerry's service.
Swiffie is fondly remembered for his roles in the children's' books "Swiffie's Upriver Chopper Drop," "Swiffie Meets Bob Hope," and the holiday classic "The Bestest Tet Ever." After the war, he generally steered clear of politics, famously saying to Dick Cavett in a 1974 interview, "if you lean too far left or right, you're bound to capsize."

However, the 39-year-old inboard's record feels compelled to break his silence and speak up for his captain. "This is a concerted smear campaign," he says, referring to accusations from the Democrats that the infamous SwiftVet ads were orchestrated by GOP Political Advisor *Karl the Pig*, and funded by high-profile Bush fundraiser, *Derrick the Rig*.
"Sometimes you have to say 'I think I can' when faced with adversity," said Swiffie. "I didn't back down when Tonkin Tugboat challenged me to a race up the Mekong, and dammit, I'm going to speak my mind now."
No Republicans were willing to comment on the boat's entry into the firestorm. When asked about the president's reluctance to disavow the SwiftVet ad, Pedro the Texas F-16 only said, "Never met the man."
Recommend this Story to a Friend