Little Rock, AR - In response to customer demand, Wal-Mart has started introducing giant shopping carts.
Combining a supersized basket with larger wheels and higher ground-clearance, the supercarts are meant to give customers "a happier, power-shopping Wal-Mart experience."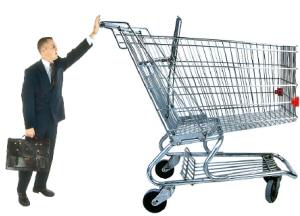 "Before designing this new cart, we sat down and listened to our customers," Gordon Chickasaw explained. "We soon learned that many felt uncomfortable using our ordinary carts - they felt unsafe and unable to buy as much as they wanted to. Our new supercart not only allows them to buy as much as they like - it allows them to scale almost any obstacle imaginable. I'm sure they could take the cart cross-country, if they were allowed to take it outside the parking area."
Most shoppers are happy with the new cart. Leonard Geezil said, "I only came here for a pack of batteries, but it's nice to know that I could fit half a sperm whale in here, if I needed to buy one. And who knows, maybe I will?"
Kimberley Toofer, who also enjoys the roominess, said, "Now I've finally got room for all the young'ns inside the cart when we go shopping. And with all them big carts in here, you can't have them running around."
Others, however, are unhappy. "Yeah, it's useful with the extra space and the bigger wheels, but the cornering is a bitch," Carol Wilbon claimed. "Last month, I had to make a quick turn, which sent the cart into a roll, crushing some illegal immigrant cleaning the floor. So now I usually start off by putting bricks in the cart to improve handling."
A last minute change delayed the arrival of the supercarts when some of the carts flipped unexpectedly. Defective tire design was blamed in the rollovers, and was corrected by switching suppliers.
Recommend this Story to a Friend