Mountain View, CA - Following quickly after the beta release of it new Desktop Search technology. Google unveiled the latest product in their ever-growing line of search utilities, Google Life Search.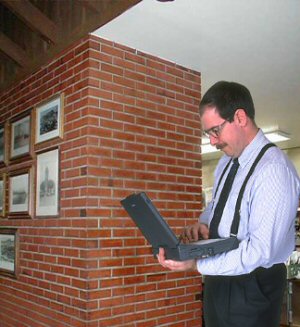 Tom Richards uses Google's Life Search to find his suit jacket.
After installation on a computer in your apartment or home, Google Life Search uses a stream of magnetically targeted electrons to index a user's memory. The results are then accessible through a web browser.
Laura Casper, Google's director of consumer web products states, "We think of this as the photographic memory you never had. Simply type in what you are looking for and Google Life Search will quickly locate that item. For example if I enter 'car keys' Life Search responds with the result 'In your pocket', and there they are right where it said! There is also a cached version to show you where your keys were."
Google based the software on its internet search engine, and technology it acquired from MindScan, which it picked up with money raised in its IPO. It takes up to three days to index a person's entire brain, during which time the person must remain motionless in front of the computer. "That shouldn't be hard for the geeks interested in the service," said Casper.
Several regular contributors to the tech site Slashdot posted reports of suspected problems in the new search algorithm saying they entered the term "life" and were presented with a "Result Not Found" error. They were presented, however, with several ads for internet dating services and online gaming sites.
Google stressed the company will not be able to peer into people's thoughts. Privacy advocates, however, claim this is another step by the search engine giant into people's personal lives. Joshua Brandt from Public Privacy Research an independent privacy review firm charges, "This is the end of the personal privacy. Google now knows everything you read on the web, they search your e-mail and now they know about the dope hiding in your sock drawer."
Brandt offered to show how this information was transmitted secretly to Google headquarters, but was unable to locate his laptop computer, which he claims he "just saw a few minutes ago in his office."
In response to privacy concerns Google's Casper claims, "These accusations are groundless and Brandt's laptop is exactly where he left it this morning; in the trunk of his car."
Recommend this Story to a Friend