Tokyo, Japan - Hitachi announced that their new Deskstar EP and LP hard drive models would use vinyl platters for long-playing performance and storage up to 30 MB.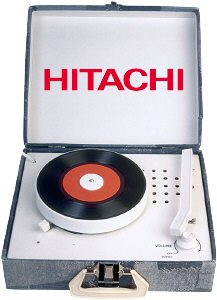 Performance of the drives may require patience for some users. "It all depends on where the data is located on the platter," said Hitachi engineer Simon Boyaki. "If you need something off the inner portion of the platter you may have to wait three minutes for the drive to retrieve it."
The Deskstar EP and LP drives would hold up to 15 and 30 MB of data respectively. "You get more data storage with the LP, but it only rotates at 33 RPM while the EP rotates at 45 RPM," said Boyaki.
One advantage of the drives is that they do not rely on "fancy electromagnetic interaction" to retrieve data, so they are impervious to EM interference.
"I work in a highly magnetic environment, and I was always losing data before these new drives came along," said Magneto.
"With regular digital hard drives you lose a lot of the fidelity in the data," said dataphile Kerwin Weber from South Bend, Indiana. "With good equipment you can get better data from an analog drive. I'm also excited about the manual data search option."
Some technology analysts were confused why Hitachi would be releasing drives using such backwards technology. Frank Wright from Merrill Lynch said, "Let me get this straight, the drive holds only 30 MB, has wait times of minutes to get the data and costs five times more than a regular hard drive. Why would Hitachi make this?"
"Because computer enthusiasts will buy anything," said a Hitachi spokesperson.
Hitachi feels big buyers of this drive will be DJs and people who can't let go.
Recommend this Story to a Friend