Schaumburg, IL - Motorola unveiled its new line of Warmr telephones which unfold into a miniature microwave oven.
"Cell phones already emit microwaves. We've only amplifed these to make them powerful enough for cooking. It was the logical next step," said Motorola engineer Graham Perkins.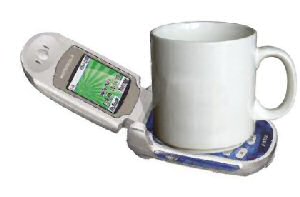 Motorola said it expects college students and commuters to be the main consumer of the item. "First adopters expect more and more from their cell phones. It is to the point where cameras and video games just are not enough. We have to be innovative to stay ahead in the market," said Frank Chiu of Motorola research and development.
"I think it's a great idea. Sometimes I am stuck in traffic and my insulated cup just can't keep the coffee warm for long enough. Now, I'll just have to set it under the Warmr and it'll be piping hot," said Clive Redman of Trenton, New Jersey.
Safety advocates worry that the new feature could be dangerous. Heather Sanchez of Ban Cell Phones in Vehicles, said, "It's bad enough that people talk on the phone in their cars. Now they're going to cook? Not to mention the danger of the stray microwave radiation."
A Motorola spokesperson minimized the dangers of the phone, "Our Warmr phones are no more dangerous than a mammoth SUV traveling at high speeds, or Nokia's blender phones."
The spokesperson also said the phones come with this strong warning on its dangers. "This is a real microwave oven and could cook your brain if used while the phone is next to your head. Please be careful."
The warning also states that Motorola does not cover the costs of cleaning pants due to melted chocolate bars.
An engineer from the company said the increased power for the microwave oven would limit use to when the phone can be plugged into a wall outlet or a car charger. "To run the microwave off the battery we'd have to increase the weight to 350 grams and that's just not acceptable to today's consumers."
Recommend this Story to a Friend