Las Vegas – Ending months of speculation, Bookman Fonts today raised the curtain on its second font family, Bookman New Style, at the annual FontCon trade show.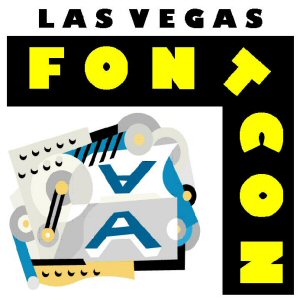 The booths of industry icons such as Arial Inc., Garamond Corp. and Helvetica International were deserted while attendees flocked to a temporary stage outside Bookman's elaborate display. Massive amplifiers cloaked by billowing smoke, strobe lights and towering columns of flame carried the voice of charismatic chairman and CEO Barry Hackbarth over the opening chords of "Thus Spake Zarathustra" from "2001: A Space Odyssey."
"My friends, we stand on the brink of a new age," he bellowed, "A new revolution. A new way of typesetting. A new style!"
The crowd applauded feverishly as 26 models paraded out to the blare of herald trumpets, each dressed as a different letter of the alphabet in the new font. Costumed as the company's titular mascot, Hackbarth then burst through a giant style sheet covered with his company's Old Style lettering and cheekily proclaimed himself the new "Serif of Fontingham."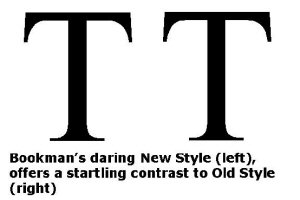 After years of setbacks, including the theft of New Style source code from company servers last spring, Bookman's future hinged on the font's acceptance. The company offered last year's attendees a sneak peek at the letter "r," for which many waited hours to see, though analysts and users alike predicted New Style to fall woefully short of their lofty expectations. The consensus at FontCon, however, was that New Style is equal to the hype.
"It's the most significant font introduction since Wingdings," said Charley Marvin, an analyst with Typeco Research. "Period."
Even art critics present were quick to praise New Style. "What I'm seeing is a blend of quasi-Baskervillian industrial functionalism and neo-classical letterforms that are somewhat more condensed than early Carolingian shapes, with a horizontal stress and almost bracketed serifs with less contrast," said Richard Dorment, art critic for the London Daily Telegraph. "The result is a warmer, yet bolder typeface that rejects calligraphic influences and harkens back to Fournier's work without calling undue attention to itself. Remarkable."
In his speech, Hackbarth assured longtime fans of Old Style, Bookman's flagship product that it won't be going away anytime soon. "Bookman was built on Old Style, and we fully intend to offer it, side by side with New Style, for years to come," he said.
Attendee Jeff Watson, who drove all the way from Milwaukee, said not only was the event worth the drive, but described it as "Pretty much the best font launch ever."
Shares of Bookman's stock were up 42 percent in after-hours trading following the announcement. New Style will be available for download April 1.
Recommend this Story to a Friend