Now you too can enjoy my Inbox without the annoying spam. Every week I get some amazing e-mail. Some amazing because of the sheer cluelessness of the sender, some because of the time and energy that went into crafting them and some are just simply amazing.
---
Believers
One Believer just wants to be helpful. This is the story he believes...
From: steve
Sent: Sunday, April 17, 2005 6:36 PM
To: briggsb@bbspot.com
Subject: i know how to speak l33t and crack what the hackers are saying

my name is steve
i play video games, and using letters and numbers is easy to decode and use this is what they are trying to say

"w3 ar3 l33t h4x0rs. J00 FB1 guy5 w1ll n3v3r c4+ch u5. J00 ar3 n0+ k3w1 3n0ugh. 0ur h4x0r1ng w1ll d35troy j00. pH34r u5."

they are saying
We are leet hackers. you FBI guys will never catch us. you are not cool enough. our hacking will destroy you. fear us.

hope it helps.


I thank my lucky stars every day for helpful readers like that.
Now a Believer from someone who must be under contract with the RIAA, because who else would want technology like this...
From: Elliott
Sent: Wednesday, April 20, 2005 11:22 AM
To: briggsb@bbspot.com
Subject: Great read.

I am looking for information on NoAudio by MicroBlinker? A link or something to contact.

Elliott
Sales Support Engineer
---
Don't Hurt Yourself
From: Seth Rubin
Sent: Sunday, April 24, 2005 1:03 AM
To: Brian Briggs
Subject: Caution: Do Not Injured Yourself

Dear Brian,

I recently bought some tray tables from the local CVS - and with them came a little rack to put together. This advice on the instruction sheet immediately made me laugh:

"CAUTION: Do Not Injured Yourself When Installing." [sic]

At first I thought the "injured" was funnier. Then I thought it's pretty funny when they essentially advise you "don't hurt yourself". Are they just being kind? Or does someone there seriously think that phrase is somehow protecting them from liability?

The other funny thing I thought of was who'd need advice like "don't hurt yourself" before a project? Then I thought of you, and laughed again.
Attached is a scan of the sheet in question - the phrase is on the bottom right. Use on BBspot however you wish, or perhaps just frame it on your wall to reference in your next endeavor.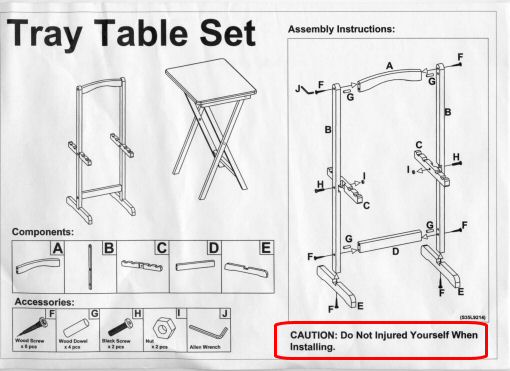 In my opinion, everything should come with this warning.
---
Angry Reader
Sometimes people have trouble unsubscribing from the BBspot mailing list, and they send me a polite e-mail so I can take care of the problem. Others, have trouble unsubscribing and send me e-mails like this...
From: [some asshole]
Sent: Friday, April 29, 2005 12:37 PM
To: briggsb@bbspot.com
Subject: FW: BBspot Update - 4/29/05

HEY YOU JERK
I HAVE UNSUBSCRIVED MORE THAN A DOZEN TIMES OVER THE PAST YEAR
REMOVE ANYONE FROM XXXXXXX.COM OR I AM REPORTING TO THE GOVERNMENT AND THATS FINAL
IF I GET ONE MORE EMAIL YOU WILL HAVE A BIG PROBLEM I GUARANTEE IT

Not only is he a retard, but he's a persistent retard. Trying a dozen times over a year period. I should've replied asking him what he meant by "UNSUBSCRIVED", but I didn't want to get reported to the GOVERNMENT.
---
E3
Some readers wrote in with helpful suggestions on how BBspot should cover E3....
From: Jeff
Sent: Wednesday, April 27, 2005 2:53 PM
To: briggsb@bbspot.com
Subject: E3 Coverage

How about covering how incredibly fucking envious every nerd in North America is of you?

Just a suggestion,
-Jeff

Well, not every nerd. Just the ones that aren't going to E3 like you ;-)

From: Christopher
Sent: Thursday, April 28, 2005 10:04 AM
To: briggsb@bbspot.com
Subject: E3 Coverage

Just about every site and its brother will be covering E3. They'll be displaying the new Games and Tech as well as the Booth Babes. I think you should do a report/review of the attendees. Show us the people who are there and aren't affiliated w/ the companies that are exhibiting.

You could also rate the exhibits on their inane qualities. Such as..

- How many bullshit bingo type phrases are in their exhibit/speech (i.e. "World leader in...", and "Ground-breaking new...", etc.) (You could even post a completed bullshit bingo board for each of the keynotes you attend).

- The average amount of letters in the names of the product presented by each company.

- The quality of the perfume worn by the booth babes.

There will be hundreds upon thousands of pictures of the Xbox 2 and the Playstation 3 all over the web. You need to bring a E3 review in the same vein as your trailer or game box reviews. Hope this gave you some good ideas.

That's better. Finally, some ideas that I can use from somebody who isn't going to E3 like me.
---
WTF
Sometimes you get an e-mail that's supposed to be for someone else. At least I hope this one was...
From: xxxxxxx@comcast.net
Sent: Friday, April 15, 2005 11:17 AM
To: briggsb@bbspot.com
Subject: Maxx's suit

Thank goodness you bought that excellent suit. It has been serving Maxx well several times every month since you bought it. Who knew?
Andrea

PS You're the best Grandmother ever!

Somewhere in this world there is a grandmother crying, because she didn't get a thank you e-mail from Maxx.
---
That's all for this week!
Recommend This Story to a Friend