Milpitas, CA - Creative Labs, pioneers in the multimedia market, is revolutionizing the audio industry with its latest peripheral, the Silent Sound Card.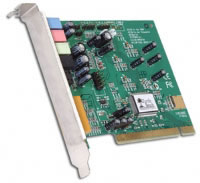 Meeting the demand of consumers who are affected by the noisy audio output of computers, the new soundless sound device allowing users to effectively "listen" with their eyes and not their ears.
The Silent Sound Card converts real, high-quality dynamic sound into words, phrases, and captions that will appear on the bottom of your screen.
The card translates the analog signals from electrical sound impulses into digital sound samples. It then processes those samples and converts them into subtitled content that works with your current media software.
Compatible with popular programs like Winamp, PowerDVD, and Windows Media Player, Creative Labs' Silent Sound Card will reproduce song lyrics, movie dialogue, and gaming sound effects silently into words, allowing the user to read the sounds of their favorite songs, movies, and video games without disturbing others.
The device even has the ability to turn audio books into a manageable printed format that is easy to read.
"I love to listen to music at work, but my co-workers find it irritating and often distracting," said Orel Lee, office administrator. "But with the new Silent Sound card I had installed in my workstation computer, I can now read my favorite music MP3s in my cubicle without bothering anyone."
Presently, the Silent Sound card works in three different languages, English, American, and Canadian, but will be fully compatible with up to nine other languages, including French, Spanish, and Rapper.
When you look at the number of people who use laptops in classrooms, libraries, and coffee shops, where noise can be an obvious distraction, the need for this audio product is evident. The Silent Sound Card creates a quiet solution for audiophiles who operate computers around others.
Will it replace the normal sound card? Well, the point is mute.
This article has be reprinted with permission from The Toque.
Recommend this Story to a Friend