San Fransisco, CA- In a surprising vote, the Association of American Geographers has reclassified all but four countries as "dwarf countries." This mirrors the action taken by astronomers who reclassified Pluto as a dwarf planet last month.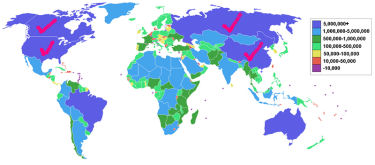 "Look at all those countries out there today," said Dr. Elijah Kippen, a geographer at Minnesota State University, "I mean, you've got places like Monaco, with an area of less than two square kilometers and Vatican City? Vatican City? Come on people, it's a city, not a country!"
Over 200 of the 9000+ members of the AAG voted to classify any country with a total area of less than 9,629,091 square kilometers to be a "dwarf country". Coincidentally the area is almost the exact size of the United States of America. A member reported the voter turnout to be, "Not half bad for a weekday."
"We felt that it was time to stop giving these 'dwarf countries' the prestige of feeling like a real country," said Kippen, "and it's coincidental the cutoff is close to the size of America. We used a complex algorithm to determine the proper size for a country. Far too complex for you or your readers to understand."
With this strict new classification scheme, the only countries that can still rightfully claim the title are Russia, Canada, the People's Republic of China, and the United States of America. The proud four countries are laying claim to the United Nations, now only open to what one aide called "real countries". The 228 dwarf countries are now part of the new Dwarf United Nations. Nobody is expected to take them seriously.
Dr. Eric Lynchly of Oxford University said, "I can't believe.....the most ridiculous bloody… no one is going to listen to this, it's utter bollocks!" He then devolved into complete regional patois, typical of a 'dwarfy', and the rest of the interview was incomprehensible.
The new classification will open many avenues for foreign policy, as dwarf countries are not protected under the UN, or the Geneva Convention.
Recommend this Story to a Friend