Los Angeles , CA – First it was block-shaking speaker systems, then it was whistling rims, now the latest auto accessory that's become a major annoyance is tweaked-out iTrip devices.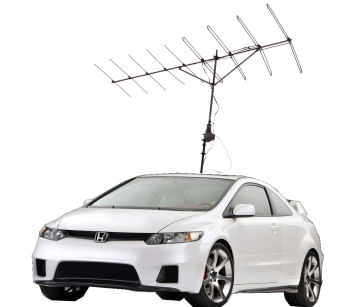 The iTrip allows a person to play music from their iPod on any FM stereo. Many car enthusiasts have boosted up the power of their iTrip devices and added massive broadcast antennas to their cars to become roving radio stations.
Unlike giant speaker systems blasting drivers can't just roll up the windows and turn up their stereo to drown them out.
Clarence Wang has added a tricked-out iTrip and a broadcast antenna to his 1996 Honda Civic. "Everybody wants to listen to my music, they just don't know it," he said.
Wang and other enthusiasts may run afoul of FCC regulations, but that hasn't slowed down the trend. Wang who currently has an eight-foot antenna installed, said he has plans to erect a 120-foot monster next year. "I won't be able to drive anywhere, but I'm usually just sitting in the Target parking lot anyway."
Authorities, like Orange County Sherriff Clinton Osbourne, say that broadcasting iPods could pose more danger than drag racing. "What happens when an emo kid broadcasts his music during rush hour traffic, this could result in a devastating increase in the suicides," said Osbourne.
Recommend this Story to a Friend
Printer-Friendly Version