Now you too can enjoy my Inbox without the annoying spam. Every week I get some amazing e-mail. Some amazing because of the sheer cluelessness of the sender, some because of the time and energy that went into crafting them and some are just simply amazing.
---
BBelievers
Normally the BBelievers we post are from email or discussion boards. This week we get two from Top 100 websites. As promised, here is the mother of all BBelievers...
"Hard to know what's scarier here: The notion of having future televisions fitted with sensors that report directly back to the MPAA (a hilariously blatant violation of privacy rights) or the $500,000 fine that Joe Six-pack might receive for screening Larry the Cable Guy: Health Inspector to his buddies. It would seem that the MPAA's fight to preserve the theatrical experience has reached an irrational level of desperation."

From The Onion (pdf)
They took the article down pretty quickly, but thanks to an alert BBspotter we have a screen capture. Thanks Richard!
I thought The Onion would be the only unbelievable BBeliever out there, but I'm pretty sure the folks over at IMDb BBelieved the Uwe Boll story....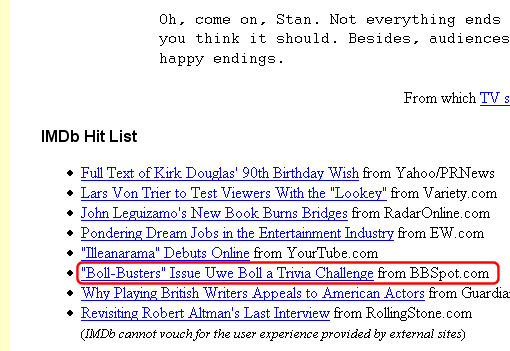 A direct link from the homepage of IMDb.com is right up there with the other top links I've gotten. It's been a good month.
And now some more MPAA BBelievers for the MPAA story. They must've not seen the entry on Snopes...
"The MPAA: Possibly Even More Unbelievably Fucking Evil Than Previously Thought"

"Bloggers up and down the web are being fooled by the story."
And now for this week's MySpace BBelievers...
"Stupid ass Bands. I swear to god... Who gets gigs off Myspace anyway?"
And from the profile's mailbox and comments...
" how many more people have you tricked since i've seen an article about you floating around on the internet?"

"this is hilarious. most punk bands will play any basement when asked nicely (with a case of beer)... i know we do."

"BUSTED!!!!!!! Girl, I gotta hand it to you, it was pretty smart. hell you managed to make it onto newgrounds!

Unfortunately Ace of Blades wouldn't be stupid enough to fall for that.....besides we ain't cute. Also, that sounded really wrong coming from a fifty year old man, which is what gave us the hint you were either a perverted rapist, or just a fake."

Yeah, you're so smart guys!
And now your Nigerian Billionaire BBelievers...
From: mark
Sent: Monday, December 04, 2006 5:39 PM
To: briggsb@bbspot.com
Subject: money needed

WHAT IS THIS MAN`S WEB SITE ?
I would like to meet him !!!

I asked, he doesn't want to meet you.

From: xxxxxx@aol.com
Sent: Friday, December 01, 2006 11:32 PM
To: briggsb@bbspot.com
Subject: article

Hello, I read your article about the billionaire Mr. Esenam Ayele, and how he want to share his wealth with other people.........what are the qualifications. I would like more information on this matter.

I look forward to hearing from you soon.

You need to not be stupid. Sorry, you don't qualify.
---
Weekly Limerick
The winner of this year's Geek Limerick contest has volunteered to write a weekly limerick for BBspot. I haven't decided where to put it yet, so this week's I'll put in the Mailbag...
From: Seth

Iran's holding a conference with pride
Where the whole Holocaust is denied.
In their differing views,
Maybe 6 million Jews
Had the world's largest mass suicide?
---
That's all for this week!
Recommend This Story to a Friend