El Genio Enojado, NM - A coalition of nerds from around the world has challenged video-game-to-film director Uwe Boll to a trivia contest at a time and place of their choosing.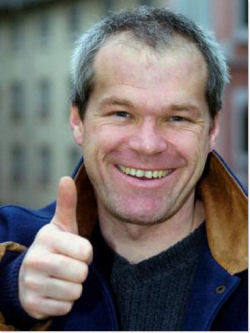 The group, calling themselves the "Boll-Busters," issued the challenge from their world headquarters, a "basement suite" in El Genio Enojado, New Mexico, where the leader of the group, a Peter Cook, also lives.
"It occurred to me," said Cook, "that when Uwe Boll challenged his most vocal critics to a boxing match, it wasn't exactly a fair fight, since Uwe Boll used to be a professional boxer, and we nerds, as a group, focus on more intellectual pursuits. "
"So we here at Boll-Busters are issuing a challenge to Mister Boll.
We've met him on his terms, in the boxing ring. Is he man enough to meet us on our terms, in the trivia ring? Or is he willing to admit that he's too chickenshit to take on a bunch of wimpy, pasty nerds in something where he might lose?" added Cook.
"We're even willing to make it easy for him, something he was not willing to do for his opponents in the boxing ring. We're willing to limit the trivia challenge to just a few categories, say…. Moviemaking, and Video Games Made Into Uwe Boll Movies. "
"So what'll it be, Uwe? Do you face us in trivia? Or do you admit to the whole world that you know nothing about making movies, nothing about video games, nothing about the video games you've made into movies, and should never be allowed to make movies, whether they're about video games or not, ever again in your life? It's up to you, Mister Millions-of-Dollars-for-special-effects-but-can't-afford-a-plot? Are you a man, or not?"
Cook then ended the interview, saying that he had to get ready for his college's Trivia Bowl, which he has won twice in the last three years.
Boll, currently on location filming a film adaptation of Katamari Damacy, could not be reached for comment.
Recommend this Story to a Friend
Printer-Friendly Version