Reviewinator

Trailer
Quicktime
Starring
Director
Josh Gordon
Will Speck
Official Site
Link
US Opening

March 30, 2007

Rated
PG-13
Genre
Comedy
Laughs
9
Weapons
Head, torch

Man Quotient

5.1
(Laughs + Weapons + Hot Babes - Kisses)/ Minutes

Trailer
Déjà Vu
Talladega Nights
Geek Factor
10%
See Trailer?
Yes
See Movie?
Yes
It's a good thing that believability isn't a prerequisite in comedies; because there is no way you'd believe Will Ferrell as a champion Olympic figure skater. I'll buy him as a NASCAR driver, but not a figure skater. That's this week's trailer: Blades of Glory, and unlike Dead Silence, it's supposed to be funny.
The trailer opens with the voice-over guy extolling the virtues of figure skating. Then we see Will Ferrell with an inexplicable 80s haircut and an atypical figure skating figure. He's the bad boy of figure skating. He rocks out to Def Leppard and licks the faces of adoring fans.
His rival is Jon Heder. They share the gold at the Olympics (it's not called the Olympics, because of stupid trademark issues, but that's what it's supposed to be). During the award ceremony Heder tells Ferrell that he smells like "taco meat mixed with aftershave." Don't we all?
They starting pounding on each other and not in the normal figure skater way. They use fists and elbows.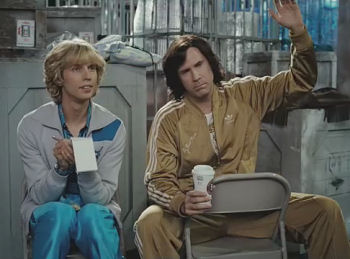 "I have a question. Could we get
Jon Heder a better wig?"
The fight causes the "Olympics" mascot to catch fire, and gets them banned from figure skating for life.
They hate each other even more now, but for their love of skating they must join forces. A loophole in the ruling means they can skate as a pair, becoming the first male-male pair in figure skating history.
We see their training sessions and their new rivals, Amy Poehler and Will Arnett. Then we see them performing as a pair at the " Olympics." With the obvious jokes of Ferrell holding Heder up by his crotch then a standing sixty-nine move. Male-male genitalia humor never gets old.
Will the pair be able to overcome their animosity for each other to become champions again? Since I saw Cool Runnings, I can answer that question: yes.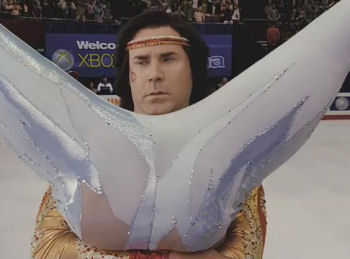 Whatever you do, don't look at the crotch.

The trailer ends with Ferrell proclaiming that "My Humps" is the only song he'll skate to. Not so funny, but Ferrell's outburst after got a chuckle from me.

Conclusion on Trailer: I have a few problems with the trailer, but it made me laugh several times. That's a good sign for a comedy. Can it sustain the laughter for 90 minutes? That remains to be seen.

Conclusion on Movie: The premise is amusing, the 80s haircuts not so much. I give this one a lukewarm recommendation. The trailer had enough laughs to make it a promising comedy.

More Trailer Reviews - Discuss this Trailer

Recommend This Story to a Friend