Waco, Texas - Nothing warms the heart of Fires for Families Association (FFA) President Rod Bobson more than a good book or record burning, but the rise of digital media has made finding fuel for the fire more difficult.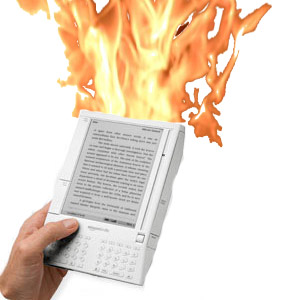 Bobson has organized a protest against companies like Apple and Amazon who promote the use of digital media. "I got very excited when I heard that Amazon was coming out with the Kindle. When I heard the name Kindle, I immediately thought "fire!" But it's an ebook reader, and I can't stand for that."

The FFA is an organization dedicated to burning obscene books and music to bring back family values to America.

"A couple of years ago we decided to have an iPod and computer burning, but the toxic smoke almost killed three people," said Bobson. "We've used virtual logs like the iYule while dragging files to the recycle bin, but it just made us look stupid."

Bobson warned publishers and digital media companies that they would face boycotts if they continued the path to virtual books and music.

Many publishers agree that it's a balancing act between providing the modern reader what they want and satisfying the archaic book burners. "These nutjobs can really bring a lot of media attention to a controversial book," said the Alan Wilson of Random House.

Authors, like J. K. Rowling, have avoided ebooks, because of the added sales to book burners. "Not only do the books burnt have to be replaced, but the free press from a book burning can raise sales 10%," said Rowling. "Why do you think I wrote a book about wizardry and witchcraft?"

Bobson said that Amazon and Apple could avoid the wrath of his organization by offering hard copies of books and music to FFA members that want them. Otherwise they'll see their profits go "up in smoke."