Paris, France – Blizzard has finally announced the long-awaited and much-teased game from their Diablo series: Diablo III.  However, a recent spike in commodity prices, especially gold, could have a large impact on the economics of the game.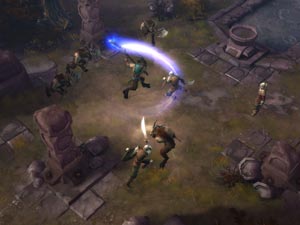 "With gold at or near record levels, we just can't include as much in the game," said Blizzard president Mike Morhaime. "That fact impacts game play on several different levels. I'm just glad we're not making a racing game because the price of oil is out of this world."
Many who forgot about the Feingold-Diablo Act of 2005, which forces video game manufacturers to back virtual gold with the real thing, were confused by the news.
"We've been stockpiling gold for ages," said Morhaine. "Probably 80% of the rise in gold prices has to do with our buying of gold to back currencies in World of Warcraft and the upcoming Diablo III. We just can't afford much more so we won't be able to put as much in the game."
Blizzard developers have looked at many ways around the gold shortage, but haven't found a good alternative yet. 
"We wanted to make armor and weapons cost fewer gold pieces, but sellers of those items wouldn't budge.  They're struggling with higher costs to transport their goods. I mean, have you seen how much it costs to feed a team of oxen with the price of wheat these days? We've been trying to get more of them to use magical means to move their goods, but the Mana Union cartel just has too strong a hold on magic," said lead developer Simon Yee.
Yee also noted that developers have considered moving to a different currency like Wirt's Legs or Beanie Babies, but no alternative is as authentic as gold.
Morhaime said that they would consider ending World of Warcraft at the launch of Diablo 3 as a solution, but that would only be a "last resort."