Beijing, China – After several athlete assimilations, the International Olympic Committee is rethinking their decision to include the Borg in the 2008 Olympic games, and may ban the aliens from competition in the 2012 games in London.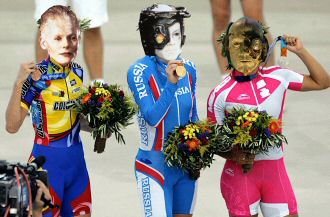 "The Olympics are about bringing people together, so we're always looking to include as many nations as possible. When the Borg applied for these Olympics, we thought it would be great to broaden the Olympics appeal outside this planet," said Olympic guy bob bobson. "Maybe we should've thought about it a little more."
Many athletes felt it was unfair to include cyborg beings in the games. Swimmer Michael Phelps said, "IWearing a specialized swimsuit to make you go faster is a little different than developing a jet propulsion device for speeding through the water. The Borg say it's part of their bodies, so it's fair, but I say it's cheating."
The representative for the Borg said, "Resistance is futile. Prepare to be assimilated. This assimilation brought to you by Visa."
Until the Olympic competition committee makes a decision the Borg will be able to compete. So far, the Borg have swept the medals in fencing after assimilating the Uzbeki team who fought valiantly to avoid becoming part of the collective. Badminton squads also fell victim to the Borg collective.
It's expected the Borg will win all the Olympic medals then assimilate the rest of the planet except for Cleveland, Ohio.
Due to tape delay most citizens in the US will be assimilated before seeing any of the coverage on NBC.