Hollywood, CA - Paramount announced that it had released the long awaited service pack for the original Star Trek series. Entitled Star Trek: SP1, the patch includes fixes for technical goofs and other errors, which have nagged fans for decades.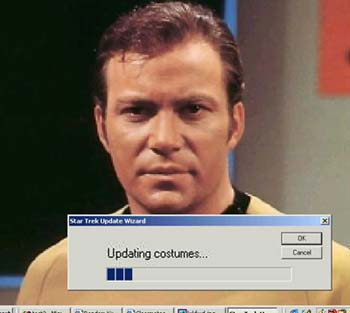 Paramount used the latest in digital editing technology to correct the errors and scoured newsgroups and interviewed fans to find all the problems they needed to correct. The service pack is available in DVD, VHS or in digital format from the Paramount website.
Paramount President Franz Pike said, "We fixed everything, from obvious errors like the glaring differences between Shatner and his stunt double to more obscure fixes like removing Spock's 'third ear' in 'The Immunity Syndrome.' We think fans will be pleased."
Most trekkers are happy with the upgrades. "Star Trek has always been unwatchable to me before the service pack, but watching it now I can almost stomach it," said one fan of The Next Generation.
"I was hoping they'd improve Shatner's acting, but apparently that was intentional overacting," said Sarah Jennings of the Star Fleet Command Outpost based in Waukesha, Wisconsin.
However, the release has left some fans unimpressed. "This service pack fixes several errors, but also creates some. Like in 'The Enemy Within' they fix the problem with Kirk's phaser switching between a Type 1 and a Type 2 phaser, but they give Kirk a mustache," said Devin Halibut of Star Trek fan club #264. "I have to say I like the goofs in the original series better than the ones introduced by the service packs."
Other fans are even more upset. "Roddenberry left those mistakes in there to show the frailty of society. I think it's blasphemous for Paramount to go in and correct the master's work," said Matt Pyckard of St. Louis.
A service pack for the films as well as for Star Trek: The Next Generation will be released in November.
In related news, Miramax announced they would be releasing Kill Bill, Vol 1.0.1 in July.
Image by Jason Simpson, Idea by Nikolaj Borg