Washington D.C. – Inspired by the Matrix trilogy of movies, Barack Obama announced in a Monday press conference a new initiative that would tackle both the current economic crisis and energy problems facing the United States.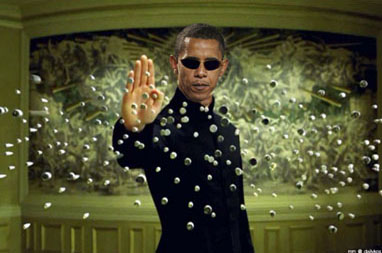 Obama said that he'll pump billions into expanding the Matrix infrastructure.  "We've had the technology since the early '80s, but we never had the national need to implement it until now," said Obama.  "The machines had a great plan.  When people have run out of their unemployment benefits, instead of adding them struggling to make ends meet we will plug them into the Matrix.  We'll use them as a battery to help power the national grid, and we don't have to count them as unemployed."
Sources inside the administration said that Andy and Larry Wachowski were on the short list for Secretaries of Energy and Treasury.
The investment in infrastructure could have a short term boost on the economy.  Unlike the movie people could be removed from the Matrix when jobs become available, however, most will probably choose not to. 
Many early adopters were eager to volunteer to be plugged into the system and already started lining up at newly opened Matrix centers at unemployment offices.  "I feel it's my patriotic duty to provide power and not be a burden to society," said unemployed computer programmer William Smith. "Who knows, maybe I can have a real life inside the Obamatrix."
Sources indicate that congress maybe have to move quickly to pass legislation which would repeal the second law of thermodynamics.
Democrats, Republicans and cyborgs showed broad support for the plan.