Now you too can enjoy my Inbox without the annoying spam. Every week I get some amazing e-mail. Some amazing because of the sheer cluelessness of the sender, some because of the time and energy that went into crafting them and some are just simply amazing.
---
BBelievers
Here's a BBeliever in this Fark thread about the consumer achievements to stimulate the economy story...
Yes, except that would require tracking your purchases. I don't need the government knowing where, when, or what I buy. What if I pay in cash? Do I have to send in all my receipts? Terrible, terrible idea.

I think it being a terrible idea only increases its chances of becoming law.
---
Painful Competition
If you've read the BBlog long enough, you know that I have a talent for injuring myself in the most unlikely ways. It appears I have some competition on the Internet from fellow writer John Scalzi. He'll have to build up a bigger resume of injuries before he breaks into the BBig Leagues, though hurting yourself with yogurt is a good start...
From: Kristian
Date: Mon, Nov 24, 2008 at 3:34 PM
Subject: Any good injuries lately?
To: briggsb@bbspot.com

Don't think I like you hurt (well, not seriously anyway) but I admit to chuckling when I read about your various blood lettings. But now I have found something I think even you will find hard to top: hurting yourself on yogurt. To quote Mr Scalzi "Not the container, the actual yogurt".

I'm keeping my eye on you Scalzi!
---
Worst Movie Ever
In the ongoing saga of my distaste for everything Twilight, I deboned the trailer in my Trailer Review. In the review, I noted that I mentioned that there was no way on Earth I would go see the movie. One BBspotter tries to convince me to change my mind...
Brian - if this is too long to read - see conclusion at the end.

Look, Brian. I really did like the twilight movie. Me and all of my friends liked it. (21 - 27 year old guys and girls)

Look it. I am not some lame dude. I've got real geek cred. About half the white and nerdy song applies to me! Perhaps, we just have different tastes...Perhaps...but let me give you my tastes as it might apply to you, so you can judge:

I am a 27 year old male. No interest in the series whatsoever. I am not even much of a reader; however, I liked the Hobbit, I read it a couple of times, but LOTR started waaaay to slow to keep my interest in book form (I must have read those same 10 pages 20 times before I gave up).

I like the original Star Trek and TNG and Voyager (hated DS9). I like Star Gate (both the movie and...much more so...the show). I LOVED the first star wars trilogy (pre-extra effects addition) and hated the second trilogy. I loved the Matrix and hated II and III.

If you are still reading this: Wow. But, my sister, who is a big time geek and avid reader/writer also liked the film and thought it was a good conversion of the book to film. She said that all the parts people were complaining about not being in the movie would have been "boring" and "repetitive" in film. They would be something like: A day at high school, another day at high school, yet another day at high school...I thought the movie flowed well, but hadn't read the book. She also thought the movie flowed well and has read the book. I think the "hate" on the movie from fans comes from the fact that the fangirls watching this film have probably never watched a movie after reading the book first and had unreal expectations.

Furthermore, I think the "hate" coming from non-fans is because the movie didn't have a $150 million dollar budget with all A-list actors and these people can't enjoy a film that isn't perfectly mainstream Hollywood.

Furthermore: I think I have actually lost geek cred writing this absolute rant defending a movie about some book whose main demographic is "tween" girls.....AAARRRRGGHHH!!!

CONCLUSION: Take your daughter to the movie. Enjoy the time with her. Unplug and enjoy the movie.

P.S. Explain to your daughter what movies can't be, so she isn't disappointed like her friends.

Unless my daughter asks me, I won't be lining the pockets of Ms. Meyer with any of my gold pieces.
I also didn't have good things to say about the trailer for Transporters 3. One guy tried to argue with me before seeing the movie, but here's what he said after...
Dude, you were totally right. I enjoyed the other movies from the Transporter series, they were the type of mindless action flicks that are good to watch with you boys after a few brews. This movie blew monkey nuts from minute one. I walked out after half an hour and that was way too long. Let me just say this, the few times that chick spoke was to describe food, what she would eat as her last meal. Describing the food in an almost sexual throaty whisper. I was embarrassed for everyone involved in that movie, I was embarrassed for everyone in the movie theater. It sucked balls. And you Mr. Briggs were one hundred percent right.

To see the entire thread go to the comments page here, which also explains the Audi train jump in more detail.
---
Best Book Ever
The action shots of BBspotters with The BBook of Geek keep rolling in...
From: Abe
Date: Mon, Dec 1, 2008 at 8:24 PM
Subject: I got my BBook today!!
To: briggsb@bbspot.com

I got my BBook today!!

I read the FAQ and started laughing, SO… I know what I'll be doing for a while.

I sent you a picture of my cluttered office with the book somewhere in the picture, ala Waldo. (The right computer it's more of a TV than anything else… Dude, how geek is that!!)

HOWEVER… I must say that I am very disappointed in this BBook or maybe the author.

"WHY?!?!?" You ask? Because I had to BREAK DOWN and buy a PAPER version.

I'm surprised that in all of your GEEKATUDE you didn't have the foresight to put the book in an eBook format or Microsoft Reader format. Do you really think I want to walk around with a paper anything? It's going to be tough trying to fit this book in my Pocket PC. (See other picture)

I'm not an avid book reader, as a matter of fact, my FIRST books (an eBook) was the Hitchhiker's Guide To the Galaxy series in 2005. I tried to read other eBooks but no go, I just couldn't get hooked into them. I most probably would've never taken the time to read the series, if they were not in an eBook. I feel kinda strong about the issue.

I'm hoping that before I finish the BBook you would have come out with an eBBook and I could just download it.

It would be more GEEK if I could read it DIGITALLY…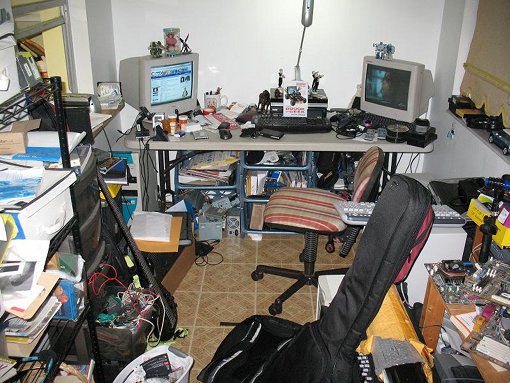 I'm sure that office looks familiar to many of you out there. On the ebook format of the BBook, I don't have any control over that right now. I have contacted my publisher about doing one, but I think they want to sell more paper copies before they commit to it.

From: Jeremy
Date: Tue, Nov 18, 2008 at 11:59 PM
Subject: Bbook Action shot
To: briggsb@bbspot.com

Thanks again for sending the autographed BBook. My son is already enjoying the fruits of geekdom. There are a few things we may wait a while on before explaining to him, but so far I think we're laying some good groundwork.

Attached is a picture. Best of luck!

p.s. Your handwriting further cements you as an authority on all things geek.
I love action shots. Send them in!
---
Weekly Limerick
The winner of the 2003 and 2006 Geek Limerick contest has volunteered to write a weekly limerick for BBspot. Seth also has a new book
out that you should take a look at...
Seth has been sending over limericks for many weeks without any Mailbag. Thanks to him you've got many to enjoy now...
From: Seth

"Twilight sucks up big money debut",
Says the AP Headline, and it's true.
But in spite of big bucks,
Chances are it just sucks,
As we know from the Trailer Review