I'm by no means an expert gadget reviewer like the guys at Engadget or Gizmodo, but I did pay for my own device (with your donations), unlike Leo (just kidding Leo). I've never used an iPhone (last mention of that device in this review unlike all the other reviews). Plus, I make a lot of stuff up, so this review should be a lot more fun.
If you want to read my account of how I acquired the device with my cyborg wife that account is in the BBlog.

First step after unboxing was to download the Web OS update. The Pre informed me that it needed at least 30% battery power before it could install it, so I set up the Touchstone inductive charger.
Yes, it's overpriced at $70 for about $5 in parts. Yes, the technology isn't new. The geek factor makes it worth it though. It does have some practical implications though too. Since connecting the Pre to my computer to sync with iTunes, I haven't had to pry off the plastic cover of the USB port or reach for a cable.
Bonus Tip: If you reverse the polarity on the inductive charger, you can create a stream of tachyons, so you never miss a call now or in the future.
Hardware: All charged up and updated, now for some first impressions on the hardware. The screen is very nice. Sharp, clear, brilliant. Resolution is 320 x 480. The Pre feels good in the hand. Nice weight and shape. Slider mechanism works well, feels good. Little more wiggle than I'd like, but nothing worrying.
The bottom edge of the keyboard needs to be softened. It's not "dangerous" like Gizmodo claims, but I might take some sandpaper or something to it later.
When closed there is one button on the front of the display that puts the system in card view so you can flip between applications. There's a 3.5 mm headphone jack on top of the unit, volume toggles on the left and a power button on the upper corner. The USB port resides on the right side. Pretty bare.
On the back is the speaker, camera lens and flash. The camera is a rear-facing 3 MP camera with LED flash. I took this picture of Mrs. BBspot in a dark club. I thought it came out well for a low-light camera phone picture. (click images for full versions)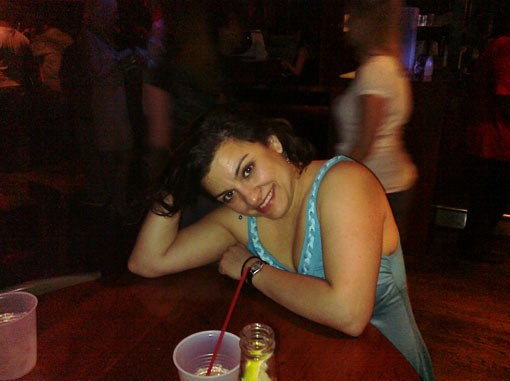 Here's an outoor shot in full sunlight.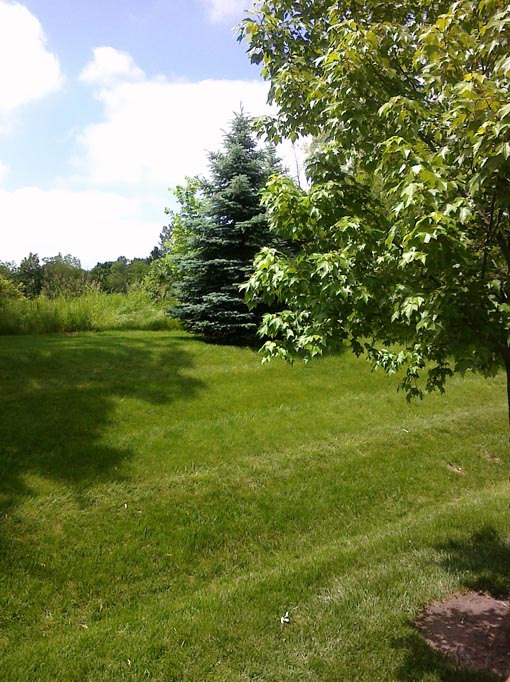 Here's a shot taken indoors.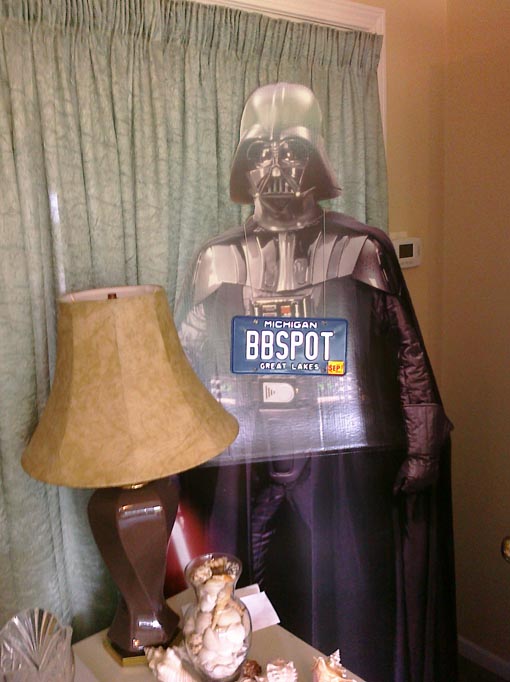 Not a replacement for a DSLR, but would do in a pinch. Of course, sending the pictures from the phone is a breeze.
The Pre comes with 8 GB of storage space with about 7 GB usable. I connected the Pre with the USB cable to my computer. It asks if you want to charge, storage mode, or media mode. Media mode lets you sync with iTunes. I pared down my music collection to about 1000 songs and loaded them onto the Pre. 4 GB of music still leaves me quite a bit of space for apps.
It would be nice to have a card slot for more storage. I'll have to see how quickly the device fills up with apps and images. Hopefully that will not become a big issue.
The keyboard. One thing that sets the Pre apart from other smartphones is the vertical slider keyboard. I saw some complaints in other reviews that it was too small, but I didn't have any issues with it. I'm sure with time most people can get used to it, I took to it right away.
Phone quality. I've talked with Mrs. BBspot cell phone to cell phone. She says the quality is excellent. My voice sounds clear. No issues there. You can set your MP3 files as ringtones on a per contact basis. I wonder if I should set The Imperial March for Mrs. BBspot. Maybe not.
Software: Entered my Facebook, Google and AIM accounts and the Pre downloaded all the info from them. It merged the contacts that it could, and I only had to link the AIM contacts that didn't have full names to their respective contacts.
I had accumulated quite a few Google contacts through the years. It's much easier to edit in bulk on the computer at google.com/contacts than on the Pre itself. When finished, I just hit the Sync Account button and all the changes I made online appeared on the device. Most excellent.
There aren't many apps available yet for the Pre. As of this writing there were 25 apps in the store. So far I've installed Tweed (a Twitter client), Sudoku, Fandango, Sporting News Pro Baseball, Accuweather, Speedbrain (game)
Sprint TV is included with the plan. You can watch full episodes of shows from ABC, NBC, CBS, Sci-Fi and others. You can stream NFL Network and Disney Channel.
Apps load quickly and easily. I did notice that the baseball app slowed things down after I left it open for a while. Probably something screwy with that app. I've had five or six apps open at a time with no noticeable change in performance.
The Pre also comes with GPS navigation for free. With Google Maps GPS and the Internet at my fingertips, I better never get lost. If I do, I still have my Swiss Army Knife.
Web browsing is slick. The pinch zoom function works well. Web sites render great. The Sprint network where I live (Ann Arbor, MI) is nice and speedy. Having a wifi connection helps too.
Reviewinator

Official Site
Link
US Opening

June 6, 2009

Rated
Cool
Genre
Smartphone
Explosions
0
Weapons
Flash, glass from touchscreen, lightsaber and taser attachments, poison gas button, blinding screen brightness, bottle opener
Man Quotient

5

Phone
Déjà Vu
iPhone 3key s
Geek Factor
80%
See Phone?
Yes
Buy Phone?
Yes
Follow Up
Pending
To my knowledge I haven't contracted any communicable diseases since buying the phone. Also my cancer has gone into remission, lost 20 pounds and grown some hair back (not back hair).
Push Gmail works great. I get email on my phone before it shows up in my browser.
Problems, wish list. After a few days of use there hasn't been anything that's made me even consider taking the phone back to the store. There are some items that would make help round the device out for me though. Needs a gmail app for better integration with Gmail. A Facebook app would be great too. Keyboard shortcuts, threading and archiving (hack for archiving though) don't work. I'm sure Google will have something soon. It would be nice to have a simple solitaire game on here.
Conclusions: This is a solid device that's great out of the box, and has a lot of potential for growth. Sprint has improved its service the past year (and they're cheaper overall), so if you have good coverage from them in your area, you might want to check this phone out.
If you have any questions about the phone or would like me to try anything out with it please let me know.