Redwood City, California - Electronic Arts has acquired the assets of Sierra Entertainment from Activision Blizzard for $20 million and plans to merge the popular Tiger Woods PGA Golf franchise with the Leisure Suit Larry series to more clearly reflect the lifestyle of the best golfer in the world.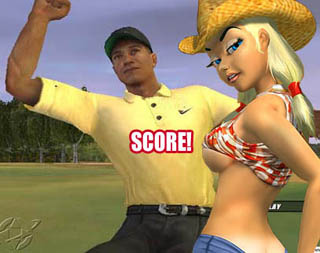 Mary Cameron, director of marketing for EA, said, "We could view the recent revelations about the life of Tiger Woods as a detriment, but we'd rather see it as an opportunity for growth."
The game will have gameplay elements of both series incorporated into the new franchise. Players can choose to play Tiger Woods as golfer and philanderer or Larry as Tiger's caddy and partner in crime. Players will need to score on and off the course to achieve higher levels.
"There's a stealth aspect of the game as well," said Cameron. "If Tiger or Larry get caught, then they'll have lose status and money. It's cheaper to pay off the floozies."
Many wondered why Tiger Woods would agree to have his image attached to a sleazy game while he's trying to polish his tarnished image. "With all the pictures we have of him and our talented graphic artists, we were able to provide all the leverage we needed," said Cameron. "He decided it was in his best interest to go along."
Some gaming sites expressed excitement about the RPG sports game. A story at gamespot.com read, "The combination of Tiger Woods' unparalleled performance and giant breasts should make every gamer stand up straight."
This isn't the first time EA has tried to blend sports with sex. Back in 1985 the company tried to put together One-on-One: Dr. J and Larry Bird with the Atari 2600 classic Custer's Revenge, but were unable to get clearance to depict Larry Bird naked.
The game is scheduled to hit shelves in time for Summer 2010.