I spent a great deal of time following the Apple announcement of the iPad yesterday. I listened (and sometime watched) Steve Jobs' presentation, and followed coverage on three live blogs simultaneously. My instathoughts were posted to Twitter during the event, and I received a lot of feedback from followers. I've had a night to sleep on it, and also to discuss the iPad with a few geek and non-geek friends.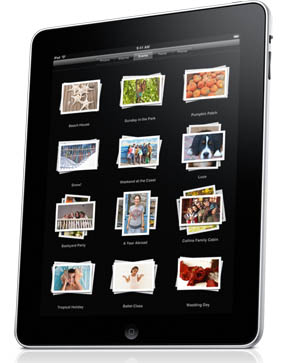 My thoughts about the device before it debuted was that it wouldn't live up to the hype. All the Apple fan boys said they didn't know what Apple would do, but they would make something so innovative and revolutionary that it would create a whole new category. I felt that fan boys would be severely disappointed, and by most accounts, I was right.
Let's start with the name: iPad. It's short and sounds like iPod which is about all it has going for it. I wasn't the only one who thought that a woman had nothing to do with the naming of this thing. I cracked that I'd be waiting for the 13" Max-iPad. So many other alternatives existed for naming this thing that I'm surprised Apple went with iPad.
Now for the device itself. By all accounts it's a pretty device. That's a good feature, but only if you're worried about showing off this device to other people. Other than that there aren't many positives.
Let's list of the things it doesn't have: Flash support, multitasking, ports, camera, no widescreen, no openness, no 3G alternatives, no phone, no outside apps. You'd think that Apple would've at least included some of these, don't you? Taken together these really limit the device's usability.
I think any geek should be scared away from the closed nature of this device. Anyone who has joined the Apple cult, and has little knowledge of computers, might be happy with this thing, but I doubt many of those people exist among the BBspot faithful.
I'd much rather see a WebOS tablet with its open ecosystem and its elegant multitasking model. If someone hacks WebOS onto the iPad then that would probably be the only way I'd own one.
I checked with my friends of geek and non-geek nature this morning. Not one of them gave a positive review of the device. There were even some Apple fan boys among them. Most had the question of "What is the iPad good for?" or said, "I'd rather have a <insert more capable/portable device here>." I was surprised. I figured at least one of them would be drooling over the device, but none of the 10 people I surveyed had any desire for it.
Conclusion on iPad: A stupid name, and a disappointing device. Would be great for the show off crowd, but the geek crowd should avoid this one like Windows ME.
Further Reading: Engadget on the Apple iPad
8 Things that Suck about the Apple iPad
First Impressions of the New Apple iPad
The Problem with the Apple iPad