Reykjavik, Iceland - Eruptions from the Icelandic volcano that have wreaked havoc on air travel in Europe are just the beginning unless the European Union meets the country's ransom demands according to Iceland's new evil overlord Johanna "Frozen Fury" Grimsdottir.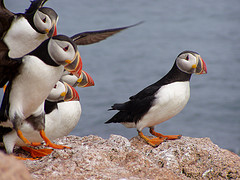 Grimsdottir, who was elected evil overlord in 2008, said, "We've made our demands clear. It's up to the governments of Europe now. We've paused the eruptions to give them time to come to their senses, but we won't be waiting forever."
Volcanic eruptions are just one weapon in the arsenal of Iceland. Tsunamis generated by earthquakes, icebergs released into shipping lanes and armies of deadly puffins are some of the other weapons at Iceland's disposal.
"Stopping air travel makes an economic impact, but no one gets hurt. I can't say that about a 20 meter wall of frozen water heading toward Norway though," said Grimmdottir.
The EU has worried about Iceland's mastery of nature for years, but relied on the benevolence of its government to keep the continent safe. The installation of an evil overlord in 2006 changed those sentiments, but by then it was too late.
"We should've seen it coming," said the EU's head of the Unlikely Events Commission Eduardo Gomez of Spain. "We set up an investigatory committee to find out more about the evil overlord system of government, but their report isn't due until 2012. I fear by then it will be too late for all of us."
Citizens of northern Europe aren't waiting to see if their governments act before they take action themselves. Many are fleeing their homes for fear of a tsunami or puffin attack. Sean O'Flannery of northern Ireland said, "I've seen what a single puffin can do to a man. I'm not going to wait around here to see what 20 million can do."
The EU has until April 21 to act according to the deadline set by Grimsdottir. Until then the rest of the world is hoping for the best, but preparing for the worst.