Lancaster, PA - Internet website "WillItBludgeon.com" has put Apple's new tablet computer through its paces and declares the iPad a winner.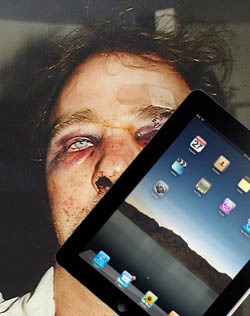 Max Hurts, creator and chief tester on the site, said, "I would definitely use the iPad to bludgeon someone. It's got good weight, feels good in the hand and packs a great wallop when used as a bludgeoning device."
Hurts purchased three iPads on opening day, then used them to bludgeon other people waiting in line who just "wouldn't shut up about the iPad."
Hurts said he likes to pick people, "who really deserve to get beaten to a pulp for the tests," and that usually includes the gadgets' biggest fans. "The fanboys of a product or company are usually the most deserving of a good bludgeon, so I try to target to beat them if I can. Most of them don't really mind, as they love being close to the product. You can't get much closer than touchscreen glass embedded in your skull."
The iPad received a 3 out of 4 cudgels on the Will It Bludgeon rating scale, and Hurts said it was only one dislodged tooth away from making a 4 rating. Only a few devices have received the coveted 4 cudgel rating from WillItBludgeon.com those include the Nokia N900, the Sony Bravia 55" Plasma HDTV and the Commodore 64.
While Hurts does most of his bludgeoning tongue-in-cheek, personal security experts say there's a practical side to the tests. "If you've got to choose a gadget to defend yourself with, you need to know which one will hold together when you smash it into a muggers face," said Clayton Dorfman of Personal Security Experts.
Apple released a statement saying they don't condone the use of the iPad as a bludgeoning device, a blending device or a bombing device.