With competition from smartphones and other devices, dedicated GPS units are trying everything to compete. Several company have licensed voices to use on their units. These five units have done even more...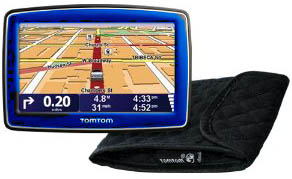 TomTom XL 340-Smurf - Fans of the 80s cartoon feature the little blue Smurfs will love this limited edition GPS device from TomTom. The Smurf blue exterior adds a touch of class, but what really sets this device apart is the software. Papa Smurf or Smurfette direct you during navigation and replace every street name with "Smurf": "Proceed along smurf and turn left in 500 yards at Smurf Avenue." Aboslutely Smurf-a-rific!
Magellan Dungeon Maestro 4700 - Magellan, with a license from Dungeons and Dragons maker Wizards of the Coast, has developed the Magellan DM 4700 GPS device. Instead of a "navigator" you get a "DM" to guide you through your journey. An on-screen 20-sided die will roll when touched, with great 3D physics to see if you've passed the skill challenges necessary to move on to the next stage of your trip. Fail a saving throw and you may end up dead at the bottom of a gorge.
Apple iGPS - This sleek new GPS device offers Apple's renowned design combined with the simplicity of UI the company is known for. Unique about the iGPS is the requirement to purchase maps for each journey for $0.99 from the iMap store through iTunes. You better hope you've got a charge on your laptop because you'll have to connect it to the computer to sync your new maps.
Magellan Memento 2550 - You wouldn't expect a GPS device based on a Christopher Nolan movie other than Batman, but that's just what you get with this noir-themed GPS device also from Magellan. The classy black and white styling of this device gives it a real 1950s feel. This device calculates a route, but then gives you instructions in reverse order. You better have a good memory, because you'll have to remember them all to get there.
Garmin Na'vi 1690 - This Avatar-themed device from Garmin uses scouts mounted in trees along routes to give proper directions instead of satellites orbiting the planet. These tree-mounted Na'vi-gators can spot trouble instantly and reroute you along the most eco-friendly route. The cutting-edge 3D display will blow your mind just like the 2009 Oscar Award-winning film.