Washington DC - In an effort to step up the federal government's fight against gun crime. President Clinton announced today several new initiatives in his 2001 budget proposal.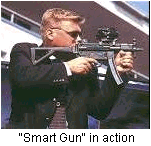 Among the items is a proposal for $35 million to be spent on "smart gun" technology, which would allow the guns to only be fired by the owner or "smart" person. The IQ limit for the "smart gun" would be a federally mandated 95.
Career criminal John Simmons said, "Oh great, now not only am I going to have to steal the gun, but I"ll have to cut off the owners hand to get it to fire too."
Ted Nugent from his Jackson, Michigan compound said while killing several small animals, "Looks like I'll have to show Clinton some of my 'smart arrow' technology."
Also included in Clinton's budget proposal was $10 million for "hot lesbo action."