Miami, FL - Judge Enrique Solomon of Miami's 12th district has offered his preliminary judgment on the fate of 6 year old Elian Gonzalez. "Elian will be severed into equal pieces. Half will remain in Miami, half will be returned to Cuba. Both families will now be able to have little Elian."
Elian's great uncle Lazaro declared. "While not pleased with this decision we will abide by the judge's decision. We insist however that we get Elian's right half."
Elian's father was not as pleased, "I would have preferred he be cut off at the waist and that I get his head and torso, but this is better than nothing."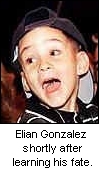 Mothers protesting in Cuba were pleased with the decision, but are taking a wait and see approach. Spokesperson for the protestors Juanita Dominguez had this to say, "While we are pleased that this issue is finally settled, there are still a few points that were not addressed in the judge's decision. Such as who gets which half, and how Elian will be severed."
Lawyers for both sides have until next Monday to propose how Elian will be severed. Lawyers for Elian's Miami relatives have been mulling over several options such as a high powered laser, chainsaw or battle axe.
A final decision will be handed down on Tuesday, January 25th.