Tokyo - American's finally get a little bit of revenge on Japan for sending over the dreaded Pokemon. It appears that a contraband Burger King Pokemon ball responsible for the deaths of two infants in the US may be the cause of Prime Minister Keizo Obuchi's coma.
The trade minister said, "After the deaths in America we knew that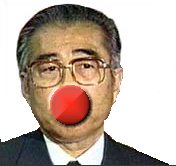 these balls would be dangerous to our entire population. The average size of infants in America is roughly the size of the average Japanese adult."
It appears that the Pokeball containing Jigglypuff was left in Obuchi's bed and became attached over his nose and mouth while he slept. His wife was awken by his struggle to remove the Pokeball.
She immediately notified authorities who arrived in five minutes. They used the 'jaws of life' to pry the Pokeball off Obuchi's face, but he had already slipped into a coma.

A Burger King official said that they didn't issue a recall in Japan, because the toys were never available there. "We are very sorry about this tragedy. It is just a coincidence that Minister Obuchi is on the board of the company that manufactured the balls. Really, it is."