Frankfort, KY - In a trend that is sweeping across America the Kentucky Senate unanimously approved a bill legalizing sister-brother civil unions. The governor is expected to sign the bill into law tomorrow. An amendment legalizing brother-brother civil unions was soundly defeated.
"It's time that sister-brother couples receive the same treatment under the law as other married couples," said state Senator Gil Winkley. "That brother-brother amendment though, well, that just ain't right."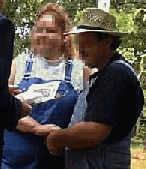 Gail and Bobby White (pictured at right) were happy with the decision. "It is a victory for civil rights everywhere. Now our children won't have to explain why Uncle Dad and Auntie Mom aren't married," said Bobby.
Similar measures are expected to pass the legislatures in West Virginia, Alabama and Arkansas later this month. In a related story, Iowa has passed a measure that legalizes Farmer-Sheep civil unions.