New York - Humans were overjoyed yesterday by a report which stated that several species of primates are nearing extinction. The report suggests that the United Nations' Operation Ape Stomp has been a success.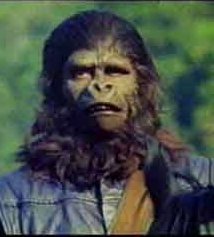 Operation Ape Stomp started several years ago after Colonel George Taylor returned from the future to tell of a world that was dominated by apes, a veritable planet of the apes.
UN Secretary General Kofi Annan said today, "Many years ago the brave Colonel Taylor told us of the dangers that lie ahead from the apes who speak without moving their lips. The human species listened and took action. Today we see the fruits of our labors. Let this not lull us into a sense of security. We must not stop until all the apes are gone!"
"I was cheered by most of the data," said Colonel Taylor, "The Cross River Gorilla and the Mountain Gorilla populations are extremely low. However, there are still 96,000 Eastern Chimpanzees left. We must work harder to exterminate these stinkin' apes."
Recent efforts by corporations such as McDonald's who introduced the McMonkey burger last fall have been credited with much of the program's success. "Nothing makes people want to go monkey killing more then the smell of a grilling McMonkey burger," said McDonald's employee Brent Steffes. "It takes all I have, to keep from running out and clubbin' a gorilla when I'm behind that grill."
Other efforts such as Banana Republic's line of chimpanzee head purses have meet with less success. "It's a little creepy to have the eyes staring out at you," said purse owner Margaret Black, "but I wanted to do what I could to support the effort.
To find out more about how you can help Operation Ape Stomp please call 1-877-APE-STOMP.