Washington D.C. - The Bush administration announced today its plans to outsource important policy directives to the Kingdom of Saudi Arabia.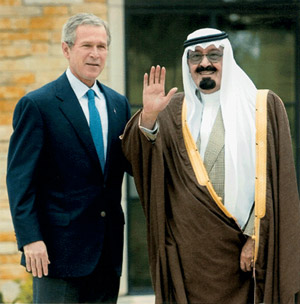 Whitehouse Spokesman Scott McLellan outlined the new direction in a press conference this morning. "We feel that Saudi Arabia represents a prime example of a corrupt, totalitarian regime that abuses the rights of its citizens. We've been going steadily in this direction since 2001, but as our country moves farther and farther away from a representative democracy, we're getting into uncharted waters, and the President felt that we need to bring in the experts on repression, cronyism, hypocrisy, and torture."
McLellan also announced that President Bush would be taking a tour of Saudi prisons to get a better understanding of Saudi torture methods, widely believed to be the most advanced in the world. "Another cool thing they have over there is religious police, who enforce their harsh and repressive religious doctrine," continued McLellan. "We could really learn a lot from that."
The move has sparked widespread criticism from the Left, many of whom expressed dismay at the possibility of their own impending imprisonment. Some figures in the Republican Party have been critical as well. Whitehouse strategist Karl Rove was reported as saying, "When the House of Bush is installed as a monarchy, there will be no more elections to steal. I'll be out of a job!"
Saudi Embassy spokesman Nail Al-Jubeir hailed the move as the culmination of a long partnership between the two countries. "We've had our differences in the past, but it's good to see the U.S. finally coming around to our point of view." He went on to say that in return for the policy advice being sought by the US, Saudi Arabia would seek help from the American government in the areas of copyright legislation and obesity.